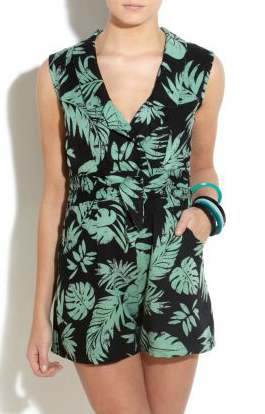 Playsuits for women – or rompersuits, jumpuits, onesies – whatever you want to call them, they aren't going away. The trend for all things all-in-one is still big for spring, and in more styles than ever before. No matter what your size and fruity shape, there's a playsuit out there for you, and I'm here to show you how to find it!
Strawberries – Va-va-voom V-necks
When you're heavier up top and slim down below, you wanna balance out your shape by drawing the eye down. That's why V-necks are made for you. Showing off your great cleavage and drawing the eye downwards, V-necks help lengthen your shape too. The only thing to avoid is anything that shows too much shoulder, making your top half look bigger than it really is, so steer clear of bandeau and halter neck styles. This little V-neck number (pictured) from the New Look playsuits for women range on the other hand ticks all the right boxes, covering the totally tropical bold print trend for spring too.
Pears and Hourglass Shapes – Cinch that Waist
If there's one trick to showing off a pear shape or hourglass figure to the max, it's cinching in that waist. Accentuating your slimmer midline and exaggerating those oh so womanly curves is the way to wear it. Look out for playsuits that are fitted tightly to the waist, or feature a belt or tie cord, to draw the eye to the waist and create curves to die for.
You can create even more balance by looking for playsuits for women that really show off those shoulders, drawing the eye up and away from your larger hips, thighs and bum. Look out for halter styles, that'll also accentuate your bust, or any playsuit that features strong shoulder detailing.
Apples – Show off those Pins
When you're an apple shape, you tend to be larger around the middle and bust, while your shoulders, hips and legs are slender. You want to look for a playsuit that's going to give you more room across the torso, while showing off those gorgeous pins. Look out for cuter-than-cute short leg playsuits, or playsuits with a slim, tapered leg to really show off one of your best features.
If you're not sure what shape you are, check out this great Channel 4 style tool, designed to help you figure it out and shop for your shape.