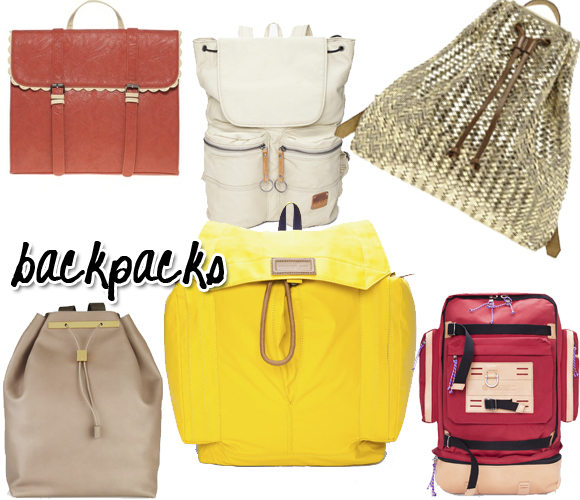 When Alexander McQueen jumps on the backpack bandwagon, you are safe to call it a trend.
As much as it pains me to feel so late to the game, I don't actually believe I have worn a backpack since my sophomore year of high school. Even then, it was the one-shoulder hang-over (as if to say, "I do not take studies seriously enough to carry enough books to make this uncomfortable." Which I did.) Yet here we are – in 2012 – with yet another 90s style staple creeping past the creepers on the trendometer.
I have plucked a few of my favourite "fashion backpacks" for your viewing/buying pleasure, above. The Jansport days are long gone, my bubs.
Click to Shop: (Top to bottom, L-R)
Scallop Edge Backpack
Gravel Faux Leather Backpack
Limited Edition Leather Weave Backpack
Potentially the most expensive backpack ever sold, designed by Mary-Kate and Ashley Olsen, The Row's leather backpack
Marc By Marc Jacobs Yellow Hackey Sac Backpack
Red Leather Trimmed Tramp Backpack