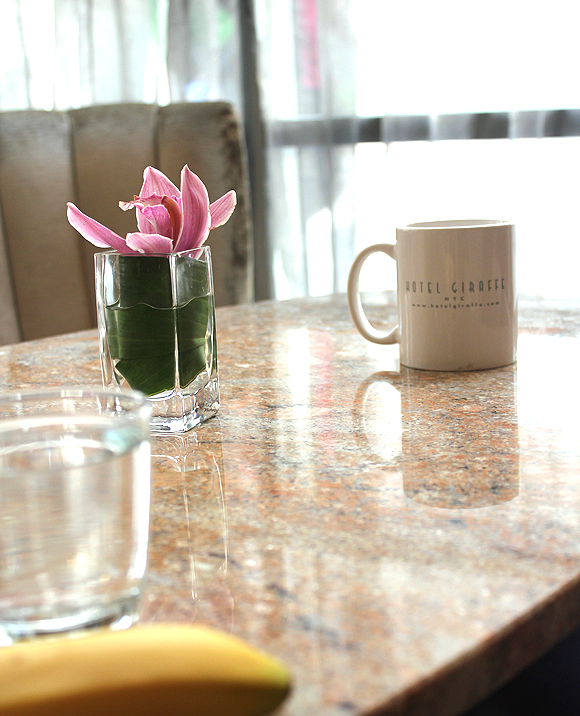 Another blog, another episode of Lela's apparent insanity. Let me just put it out there: on my last four nights in New York, I stayed in four different hotels.
What better way to challenge yourself to explore different parts of a city, right? We all know that trap of 'comfort' in wandering solely around the square mile your hotel is located. Hotel one-night-stands (in the non-traditional sense) are a fantastic way to ensure you utilize as many opportunities and locations as possible while travelling.
So, where did I stay? All four of HK Hotels! (The extras* say it all). Night One was the Hotel Giraffe. The hotel itself was designed to celebrate the architecture of the Art Moderne period which has distinguished the vibrant Manhattan Eastside neighborhood since the 1920s and '30s. The room – the Terrace One Bedroom Suite – was lovely; a small balcony, separate bedroom, bathroom, and living room, the most incredibly cosy bed…swoon. No wonder it has won Citysearch awards for "Best Boutique Hotel" and "Best Family Friendly Hotel". Also, it is located at 365 Park Avenue South at 26th Street, which gives you access to everything in Midtown without being overcrowded.
I particularly loved The Rooftop Garden (pictured below), the proximity to Union Square (the people call it RAGTIME!), and the fact that it was absolutely surrounded with amazing (yet affordable, by New York standards) food hotspots.
Tel: (212) 685-7700/Toll Free: (877) 296-0009/Fax: (212) 685-7771
E-Mail: information@hotelgiraffe.com
*The extras!
HKHotels Signature Style of Hospitality and Value included at no extra charge:
*Bountiful European style breakfast buffet
*Selection of coffee, tea, cookies, and fruits throughout the day
*Wine & cheese receptions evenings from 5-8pm (hello, Prosecco)
*Complimentary wireless high speed Internet access
*Complimentary passes to nearby New York Sports Club

Total Added Value: $110 per person or $220 per couple, per night!
* Wine and cheese is served on all evenings except Sunday at Hotel Giraffe and Saturday and Sunday at the Hotel Elysee