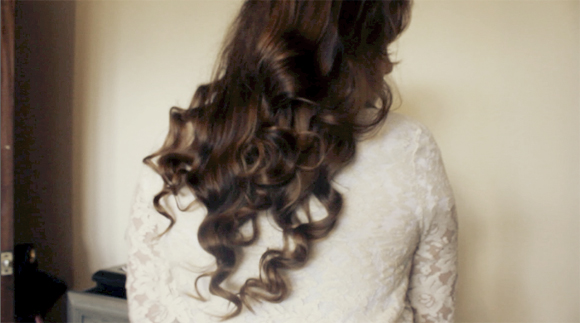 If I can manage it, I avoid heat damage to my hair at all costs. Being long, frizz-prone and colour-treated, my mane simply doesn't have the right stuff to handle constant blow drying, curling or straightening.
While I am thankful to appreciate the texture of my natural hair (curly, loose ringlets) and don't feel like I have to style it every day, I am always looking for healthy ways to change it up. This method is my current favourite, as all it requires is a few socks (clean, please!): No Heat Sock Curls!
See the tutorial in the video below!

Tips:
1. Use this method on dry hair. I sprayed a small amount of conditioning spray on the ends for shine/hold, but it isn't necessary.
2. If you want tighter curls, use more socks on damp hair. If you want looser curls, use only one sock for two hours.
3. Sleep in it! Unlike rollers, socks are comfortable throughout the night and the longer you keep the socks in place, the longer the curls will hold.
4. Use cheap socks! The pack I purchased were only £1 and provided the texture and weight needed to secure the style. Too thick and it will be difficult to tie, too thin and curls will have a difficult time creating a uniform shape.
Products used: Dove Colour Radiance Leave-in Conditioning & Care Spray (out later this month – I will link/tweet when available!)