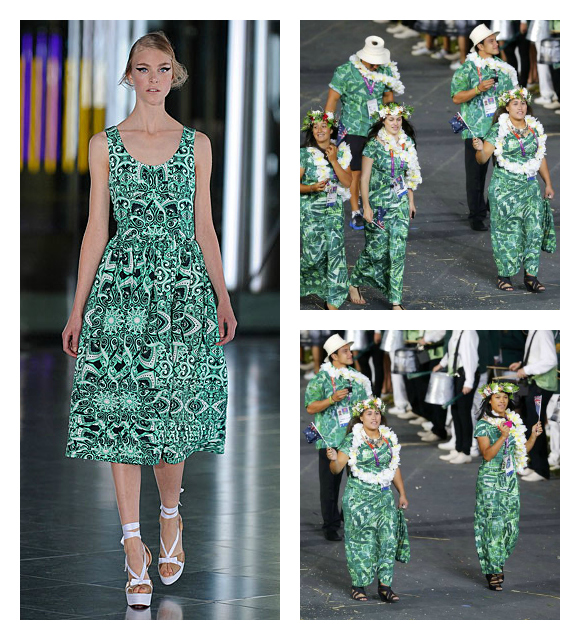 The Olympic Uniforms: 2012
My beautiful home city of London is playing host to the Olympic Games this year (news for those living under a rock) and the city is full of sports lovers from all over the world. Despite the whole sports thing, it seems like the beauty and fashion industries have made a point to get involved, as well. Though I have never watched The Games before, even I found myself excited and live-tweeting through the entire Opening Ceremony. I must have type-vomited over 50 tweets; not a topic left unturned – naughty MP comments, Mr Bean, Opening Ceremony fashion…
I have to say, each country's uniforms were a riot all on their own. This year, the looks ranged from preppy to pretty, boring to controversial. The biggest fuzz was made about the US Team uniform: white trousers and skirts with a navy blue blazer designed by Ralph Lauren. Minimalist, patriotic, and a bit of a snooze. Though the Ivy League-looking ensemble didn't tick the style boxes, the big controversy was actually down the the fact that these patriotic uniforms were "Made in China".
When it came to my home country, the Opening Ceremony outfits for Team GB were a little bit "Jimmy Saville" (long live the high shine shell suit). The saving grace came from Stella McCartney's competitive uniforms and Next's  formal wear. A noticeable departure from gold lamé, the formal wear is a dapper blend of navy professionalism and flight attendant chic. After all, as an Olympian there is nothing better than throwing on a watch from Panterai and being able to have a "Flight Captain" costume party outfit for years to come. Bang for your Olympic buck!
Fashion done right
The motherland of fashion, France, did everything right with their uniforms. White shirts and trousers, deep navy blazers, and red shoes (they completed the tricolour). In true Parisian style, they worked with something very elegant, simple and stylish. You would never expect that these understated ensembles were designed by Adidas. Not to say they abandoned their sartorial empire – on the other hand, the incredible french label Hermès is responsible for the nation's equestrian outfits. You simply can't top that! Once again, I am taking a look at Chrono24.com to complete the look (with an Audemars Piguet, sweetie darling). Something about sportswear and shiny timepieces…
While Italy also added a designer touch to their uniform – sup, Armani – there is only one country that qualifies to take the cake in the Fashion Olympics. That country is Cook Islands. With their floral headbands (a la Lana del Rey) and Jonathan Saunders-inspired batik prints, these guys are obviously going for the sartorial gold.
What has been your favourite style moment of London 2012, so far?