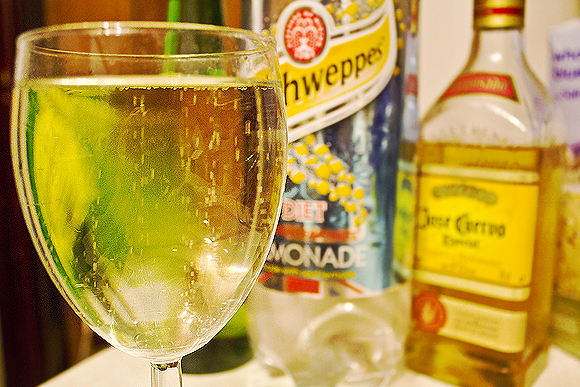 Hold on to your Louboutins, mon cheres! Did you know the average Margarita contains 550 calories? That is more than a Big Mac! Thank the lucky stars that I'm not a big drinker…I already have enough junk in my trunk. I can't imagine how the average partygirl maintains a good body…
I mean 4 oz. tequila, 4 oz. margarita/sour mix, 2 oz. triple sec, lime juice, and 1 tsp. sugar doesn't seem that calorific if you're looking at the big picture, but this mix can top out at over 700 calories in the hands of a friendly bartender.
There are alternatives out there – Bethenny Frankel's Skinnygirl Margarita mix being the most popular – but few of them are available for international purchase. Time for a tasty British-bought DIY Skinny Margarita, methinks…
Use:
Bottle Green Lime and Coconut Cordial – one capful.
Jose Cuervo Especial (or your preferred tequila) – one shot.
Schweppes Diet Lemonade – fill to top.
Mix well.
Total: roughly 120 calories.
Unlike a traditional Margarita, it will sparkle (a pro for some!). With 4 times less calories and 4 times more flavour, this is the best cocktail experiment I have ever done.