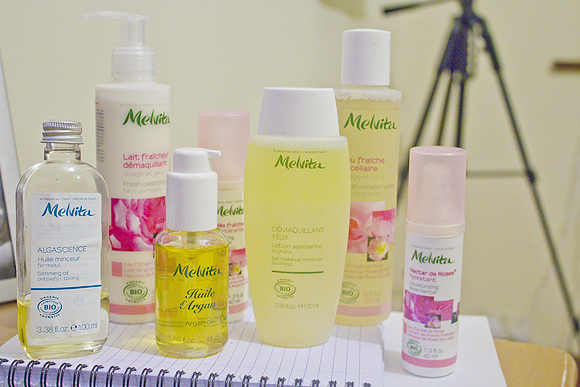 I don't have an addictive personality, per se, but beauty brands get under my skin extraordinarily easily. Organic beauty brand Melvita has managed to turn me into a total junkie over the past year.
The first product I fell in love with was their Slimming Oil and I have used it for months as my post-shower moisturiser. I have never had a problem maintaining a firm skin tone so I can't say too much for its slimming properties, but the way it makes my skin look and feel is more than enough. The oil is a mix of hyper-oxygenated olive oil, geranium, scots pine, juniper, hybrid lavender, bellis oils, Amazonian andiroba, and red seaweed. The result of the cocktail is a fresh and long-lasting layer of moisture, skin strength, and anti-inflammatory properties.
In addition to the oil, I have a few new cleansing loves; their micellar water, cleansing milk, and eye makeup remover. The micellar water takes the cake, as the micelles in the liquid trap impurities and act as a 3-in-1 make-up remover, cleanser and toner. A product you would expect to strip the skin on paper, yet is actually enriched with wild rose petal extract and rose floral water, leaving skin moisturised and soft. I wouldn't say the cleansing milk does quite as good of a job making my skin 'feel' clean, but I know that is due to my personal aversion of rose seed milk. For a sensitive or mature-skinned individual I expect this would be a heavenly daily cleanser, but I only use it at the end of the day when I know I can 'micellar' my skin in the morning.
For the days you're feeling smokey or lashtastic, their eye make-up remover is a must. I wear very little eye make-up in the day but I do love mascara, and this formula can take it all off without tugging or irritating my eye area. In fact, because it contains active cornflower water, chamomile and lotus, the eye area is uber-hydrated and soothed after use.
Next up are the either/or products: Their moisturizing rose nectar and hydrating facial gel. If there is one product I am always switching around it is my facial moisturiser, so I know a good'un when I apply one. Both of these formulas moisturises the skin for 24 hours with a whole lot of science and active ingredients that I won't bore you with, for now (tweet me if you're interested!) The difference between the formulas lies with the mattifying rice powder in the gel; it makes it more absorbent and therefore better suited as a Summertime moisturiser or an oily skin staple.
The last hero (until I end up in the store, I'm sure): their Argan Oil. I know, I know – you've been bombarded by argan oils from Harrods to Poundland. "What's so special about this one?" The quality. Melvita's argan oil is fairly traded from the Ounarha woman's co-operative in Essaouira where the women hand-crush the kernels and extract the oil using a cold-pressing system, making it 100% pure and ethical. The ultimate repair for skin and hair (it rhymed on accident…promise).