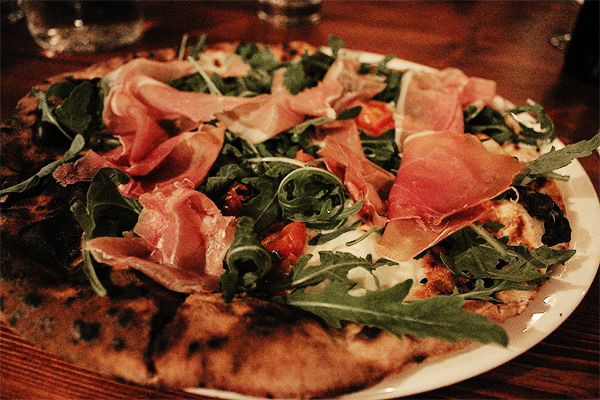 It's not often that I spend my evenings in Soho basements, but things may change with the arrival of B-Soho to the 'hood.
The cocktail bar and pizzeria mash-up opened it's doors at 21 Poland Street just this week and they already boast a reputation that packs Londoners to the walls each evening. With a loft-like aesthetic and a runway of lights leading you from the windows to the bar on the top floor (restaurant is underground), they have knowingly created a picture-perfect venue in one of the most foodie-littered areas of London.
It is not all lights and hype, either. With a menu based around thirteen 12″ pizzas, the restauranteurs have flown Neapolitan-born chef Raffaele Medaglia in to lead the talented team's use of their hand-built fine Italian Forno Tradizionale Napolitano brick oven. By cooking their pizzas at 450c for just 90 seconds, their quality recipes and ingredients create a thin crust pizza that has the – and I don't use this word lightly – perfect dichotomy of crunchy and chewy. As a woman who typically eats the toppings off of the pizza base, I found B-Soho's version impossible to leave behind.
At the table, we had mixed orders of the Don Piccante (spicy salami, mozzarella, and tomato, £9) and Don Alberto (pesto, ham, mozzarella, and tomato, £8) while all indulging in Tagliere Misto (a mixed slection of cured meats and cheeses, £8) as a starter. My personal choice was the Don Rocca pizza (buffalo mozzarella, cherry tomato, rocket, and prosciutto crudo, £11) which – alongside a few glasses of Trebbiano Rubicone – was the cherry on top of a light, moreish, and perfectly composed meal.
Big praise for B-Soho: the best pizza I have tried in London to date.