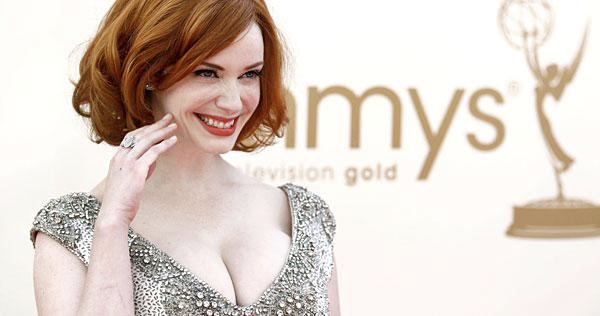 Christina Hendricks is a hot woman. Perhaps not everyone's dream woman, but with a curvaceous figure, sweet nature, and a fame-making role as the quintessential femme fatale, the unaffected are few and far between.
Last week, Christina was in Australia to promote Specsavers launch for Australia's Most Stylish Spec Wearer (setting those optician hearts racing, I'm sure) and sat down for a preliminary interview with the fashion editor of the Sydney Sun-Herald, Kate Waterhouse. Half way through the interview Waterhouse noted, "You have been an inspiration as a full-figured woman. What is the most inspiring story you can remember where you've inspired someone?"
Quickly, a viral video surfaced that showed Hendricks flustered and shutting down Waterhouse's full-figured question on account of being 'just rude'; the F-bomb, if you will. I was perplexed by her reaction. Instead of taking the moment in its positivity, the gorgeous actress – having built a career in this same body, always the poster girl for full-figured women – looked hurt. I felt empathetic.
Regardless of good intentions, you could see the affect the comment had on her. Regardless of being human – just like you and I – she has since been ridiculed for "breeding insecurity of body acceptance".
Hendricks later told The Sun-Herald that she prefers her body to be described as "feminine", causing just as much of a stir; as if she would perhaps exclude those without curves from being feminine. Is it her responsibility to be politically correct, here? Let me know what you think!