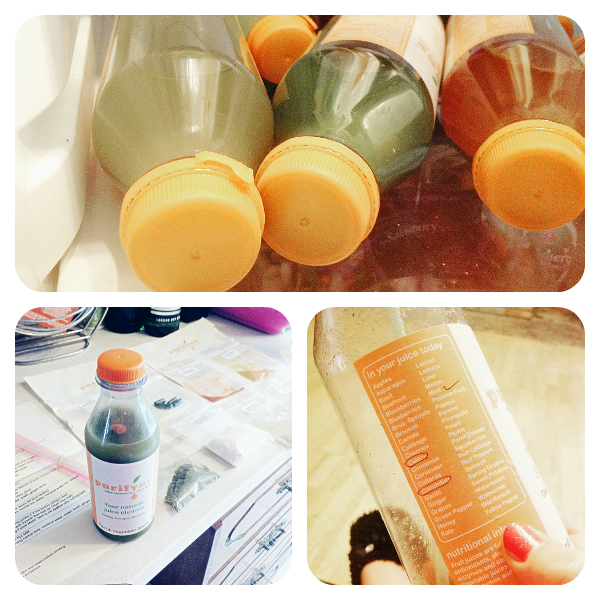 One week ago I embarked on a five-day juice cleanse of epic proportions. The plan, Purifyne's Beautifyne Cleanse, is a magical concoction of detoxifying fruit and vegetable juices and detox supplements which promote the elimination of toxins. When introduced to it, the thing that specifically caught my attention about their 'Beautifyne' cleanse was the tailored results. Setting itself apart from your typical detox juice plan, Beautifyne works to boosts complexion, hair and nails while regenerating our bodies at the molecular and cellular level via proven cell rejuvenators and stimulators. Due to its antiseptic and anti-inflammatory qualities, it also has the ability to fight infection, increase red blood cell count (increasing the body's oxygen utilization), and hit the restart button on skin problems.
From Sunday night, I received three 500ml bottles of freshly prepared fruit and vegetable juices for each following day. With clear pre-, during, and post-detox guidelines packaged alongside superfood supplements and herbs, the plan was extraordinarily easy to follow. Purifyne's attention to detail, in fact, was faultless. Every day of the cleanse I woke up to a 'tip of the day' via e-mail which had been specifically designed to maximise my detox results as well as encouraging tweets throughout the week. Any questions I had? Answered within the hour. In this day and age – with the constant digital connection and temptation at every corner (ahem, press days packed with cupcakes, ahem) – this became invaluable.
Of course, the results speak for themselves: 2kg lost and handfuls of strangers telling me that I was 'glowing' (I'm as surprised as you!). Those chlorophyll-packed juices have acted as a power tonic to my brain, immune system and skin. I simply cannot recommend them enough.