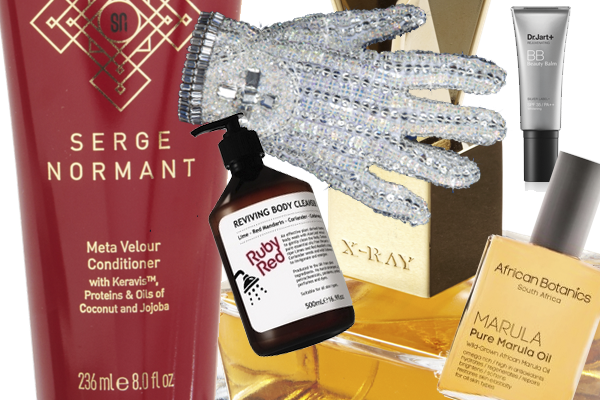 Happy post-Halloween consumption of sweets and Happy Movember, beauties! Last month I was introduced to so many fantastic products and experiences that it inevitably translated into a hop on the Monthly Favourites bandwagon. Read on for my October 2012 favourites…
Serge Normant Meta Velour Conditioner and Meta Revive Dry Shampoo
Because I have an irrational dislike of red and gold packaging (…who knows…) I took my time trying these bad boys out. Regretfully. The Conditioner is packed with natural botanical oils, rice and essential fatty acids which nourish the hair while adding major volume and bounce. For a head of hair that falls lifeless under most deep conditioners, it has become my all-time favourite conditioner.
At the same time, Normant's dry shampoo is the only I have found without parabens, sulfates, synthetic fragrances, synthetic dyes, petrochemicals, phthalates, GMOs and Triclosan. For natural beauty lovers, nothing is available to rival this dry shampoo's invisible clarifying and volumizing.
Dr Jart BB Cream: Rejuvenating Beauty Balm Plus SPF35
…makes me never want to wear foundation again. What this BB cream offers is simply everything that all the others pretend to. Breathable skin under a full and silky coverage, soft-to-the-touch moisture, a brightening formulation, and a hyper-soft polymer which mimics the skin's natural elasticity and feel. Being dermatologically tested, it is also a hypoallergenic formula that does not contain any parabens, formaldehyde, tar pigments or dioxane and does not irritate skin.
African Botanics Pure Marula Oil (from Space NK)
Yet another preservative and chemical-free product with a punch. Pure Marula Oil is a natural, cold pressed, light textured oil that has recently been described as 'the new argan oil'. With a list of benefits that will put any of the products on your bathroom sink to shame, this anti-ageing, firming, antioxidant-packed, line-erasing, and irritation-soothing oil also has one of the most beautiful/natural/tropical fragrances that I have had the pleasure of experiencing. South Africa is no longer keeping this secret weapon under wraps!
Ruby Red Reviving Body Cleanser
Body washes are not something I have ever had the inclination to 'favourite', but this month I have found a worthy candidate. With just the right amount of zest (Lime and Red Mandarin, yum!), this body cleanser uses botanical glucosides found in corn and coconut to cleanse and tone the skin. Using the botanical extract of Aloe Vera to soothe and moisturise, less than a full pump will 'treat' the entire body (making the bottle last for ages). A real accomplishment for natural beauty cleansing that usually lacks a luxury feel.
X-Ray Profumo Resurrextion (from Space NK)
Having recently launched his line of fragrances in the UK, I met up with the impossibly charming creator of X-Ray Profumo, Ray Burns, to sample his stunningly packaged scents. Designing each fragrance as an ode to his personal experience of a city, I fell head over nose for his 1950s La Dolce Vita-inspired fragrance, Resurrextion. Under a 24k gold-plated bottle you will find an amber-coloured blend of bitter orange, petitgrain, lavender, clary sage, blue chamomile, cardamom, coriander, white almond, orange flower absolute, raspberry splash, blond tobacco accord, Haitian vetiver, cistus labdanum absolute, thyme absolute, leather, sweet Madagascar vanilla, and moss. The dry-down is a warm see-saw of almond and vanilla which holds – softly – onto a heady floral. Intoxicating, and unlike anything else on the market.
And, outside of the beauty realm…
The Michael Jackson Wardrobe at Westfield Stratford City
Now that the Olympic stadium has lost the summer's superstar inhabitants, a whole new kind of superstar has moved in around the corner. Until the 17th of November, Westfield Stratford City are hosting the exclusive 'Collection of Tompkins and Bush: Michael Jackson Wardrobe' at the Getty Images Gallery on 'The Street'. The costume exhibition is a unique collection of personal and concert tour wardrobe ensembles worn by the world-renowned King of Pop and possessed by Michael Jackson's long-term costume designers, Michael Bush and Dennis Tompkins. We're talking everything from the infamous right-handed crystal covered glove to the complete Scream video outfit, babes. You don't want to miss this one!