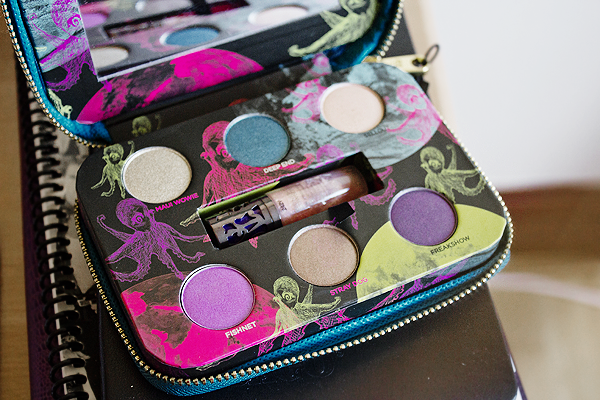 Because no-one does make-up palettes like Urban Decay, I couldn't wait to get my hands on their latest releases: the Feminine, Dangerous, and Fun Palettes. These limited-edition beauties are each filled with six richly pigmented eyeshadows as well as a travel-sized Lip Junkie lipgloss.
The Fun Palette — For a little bit of technicolour beauty, this palette will become your best friend. Cased in a bright teal, this palette contain's two of Urban Decay's most-loved retired eyeshadows, Deep End and Freakshow:
Eyeshadows: Deep End (bright teal shimmer), Fishnet (bright pink w/purple shift), Freakshow (deep royal purple pearl), Maui Wowie (metallic golden beige shimmer w/silver glitter), Stray Dog (cool metallic ash brown shimmer) and Sellout (pinky champagne shimmer).
Lipgloss: Midnight Cowboy (sheer nude sparkle).
The Feminine Palette – Cased in frayed lace, black fishnet, and sleek purple, this set is packed with shimmer, smoke, and the sultriest eyeshadow I have ever owned, Bordello:
Eyeshadows: AC/DC (smoky grayish purple shimmer), Bordello (pale mauve shimmer w/gold micro-glitter), Gunmetal (dark metallic gray shimmer w/silver micro-glitter), Hijack (deep metallic teal shimmer), Lost (medium metallic brown shimmer) and Skimp (light peachy pearl).
Lipgloss: Wallflower (nude creamy pink).
The Dangerous Palette — Something about this palette screams 'The Runaways', to me. Deep statement-making jewel tones are the order of the day while seductive neutrals (you have to try Mushroom as an eyeliner!) balance things out:
Eyeshadows: Ace (deep gray/blue shimmer), Deeper (metallic dark brown w/bronze pearl), Evidence (deep navy blue shimmer), Gravity (deep violet shimmer w/multi-colored micro-glitter), Loaded (deep metallic emerald shimmer) and Mushroom (warm pale gray shimmer).
Lipgloss: Naked (pinky neutral).