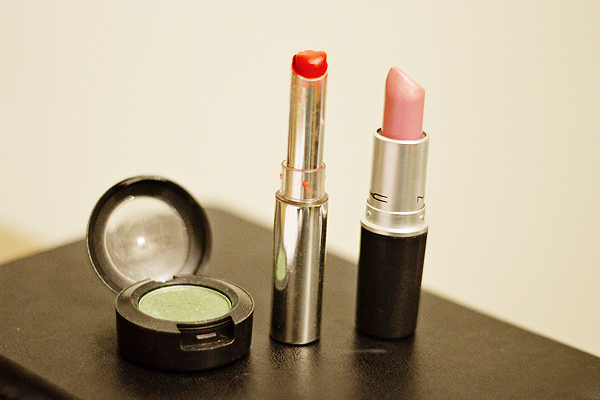 We all seem to get very thoughtful and retrospective in the week between Christmas and New Year. Following the fashion, I became rather pensive during a cosmetics clear-out today and thought I would share with you the oldest makeup I own (and for hygienic reasons, never use).
Left to right:
Swimming by MAC
Though my eyes change colour, their most dominant colour is green. When I was 12, I believed my first venture into coloured eyeshadows was 'safe' if I matched the colour to my eyes. It is a medium and grassy green with a gold shimmer and subtle gold sheen in their 'Lustre' finish. I think I've used it twice. The shimmer is gorgeous, but I have very few occasions that call for such a green. Amazingly, the eyeshadow has yet to be discontinued.
Ruby & Millie in Pink 485P
The first lipstick I owned. This shade of 'pink' is, in fact, very orange and was given to me by a very gaudy and fabulous family friend. Before I knew the incredible talent of Ruby Hammer and Millie Kendall I can remember using this as a pre-teen and thinking that it made me a 'woman'. It has since moved with me internationally…six times.
Groupie by MAC
The pink lipstick that marks my first visit to a MAC counter. A sugary sweet lustre finish which is well and truly discontinued. This hue does absolutely nothing for my skin tone but happened to be the 'hot' colour of the year when I saved my pocket money to purchase it. If any product makes me a hoarder, it's this one.