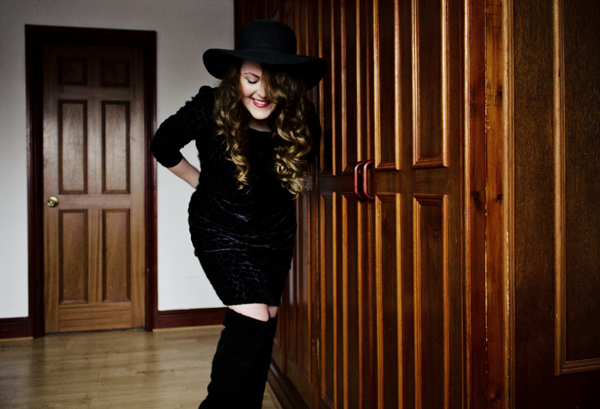 M&S recently invited me to take a look through their lovely dresses and pick one to style in three different ways for the holiday season. Thankful for their great stock of petite choices, I quickly settled on the petite slash neck devore spotted dress. Cut just above the knee with with ruching at the waist, it is the perfect choice for ladies (like me) that have an hourglass shape and like to accentuate their curves.
Look One – Lunch with friends:
I find adding a warm colour into the mix helps make an outfit feel more 'casual', so for a lunch date with friends I opted to link in a brown. Adding heavy brown booties with a wedge, I completed the look by tying a brown and cream scarf around my waist a few times.
Look Two – Party Dress:
Sparkles are obviously on the menu here. By adding a sparkly statement necklace that mimicked the texture of the dress, my super-bright pair of red glitter heels are able to be a 'colour pop' while complimenting the neck bling perfectly.
Look Three – Weekend in Milan:
You may not have plane tickets in hand, but you can still pretend you're pounding the pavement of the Via Dante district by adding two important accessories: an oversized hat and boots. Do it wide-brimmed and over-the-kneed: bigger is better in both cases.