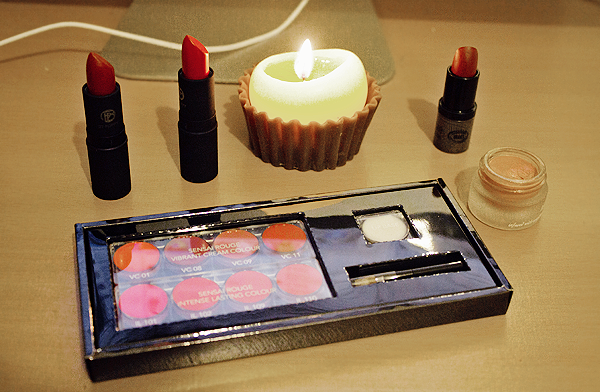 Though it is infinity-times easier to wear eye makeup in the Winter than the Summer (hello, creasing/running/sliding), I have fallen into total lipstick junkie habits. Mascara and lipstick might be the lazy girl's guide to 'pretty', but I am a very happy lazy girl thanks to the products below:
(In photo order…)
Deep Red Sinner (left) and Scarlet Red Sinner (right) by Lipstick Queen.
Miss Poppy King recently added 10 colours to her cult Saints & Sinners collection, and I have naturally fallen in love with the Sinners. Each shade in the collection has both a 'Saint' and 'Sinner' counterpart, with Sinner's new formula taking the 90% pigment rich lipstick to brand-new creamy heights. Scarlet Red is a rich blue-red while Deep Red has seductive black undertones. The ideal red lipsticks for day and night.
terre d'Oc Lipstick in 202 Cerise Lixus.
The story initially drew me in: in Morocco women use an aker (a small terracotta bowl) covered in poppy powder and pomegranate bark to colour their lips. Inspired, terre d'Oc created this cherry-coloured lipstick which combines argan oil and butter to nourish and highlight the lips. I love wearing this as a base underneath…
Lucy B. 'Stung Lips' Nudie tinted lip balm.
Even when I'm not wearing lipstick, I'm usually wearing this. With a sheer flush that is almost identical to my natural lip colour, the combination of natural shea butter, vitamin E, and natural Australian flower essences means that my addiction to the scent (vanilla and melon) is a healthy one.
Sensai lip palette.
I was recently given this palette which features a selection of Sensai Rouge's Vibrant Cream Colour and Intense Lasting Colour shades, and – mixing shades like a mad scientist – I have become obsessed. Because Sensai is a prestige Japanese skincare and make-up brand (part of the Kanebo group) I had high expectations, but have truly never felt a lipstick as moisturizing (thanks to the addition of their luxurious Koishimaru silk, I believe) and buildable. If you need further proof of the formula's excellency, check out Kristen Stewart's 'perfect lips' as Snow White in Snow White and the Huntsman: only Sensai lipstick was used.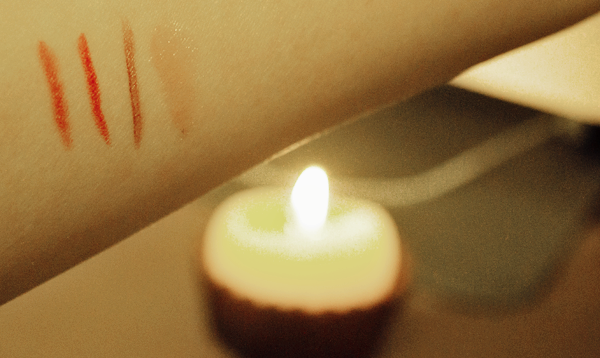 (Swatch order: Deep Red Sinner (left), Scarlet Red Sinner (right) – both by Lipstick Queen, terre d'Oc Lipstick '202', and Lucy B 'Nudie'.)