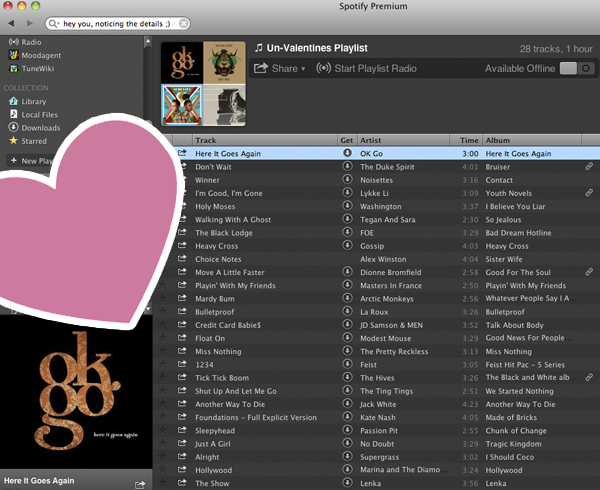 Tomorrow is February 1st. Naturally, Valentine's Day is about to be shoved down our media-consuming throats.
Even as an engaged woman, I can only hear Celine Dion or Marvin Gaye croon about true love (or true getting it on) so many times before I want to rip my ears off and throw them in an empty box of Ferrero Rochers.
For those who feel the same, I have created the Un-Valentines Spotify Playlist. With FOE, Supergass, La Roux, Kate Nash, The Hives, Caesars and more at your disposal, this playlist should be able to get you through the month without feeling like you need to find a boyfriend or watch The Notebook.
And, because I feel like writing infomercial-style, POPULAR LYRICS INCLUDE…
"My worst mistake was that I never let you down…"
"There's a breeze in the tree singing 'your black heart, your black heart needs a transplant'…"
"Get your head out of the sand, but it's too late…"
"It starts out easy, something simple, something sleazy, something inching past the edge of the reserve…."
"I'll never let you sweep me off my feet…"
(Download Spotify here. It's free! )