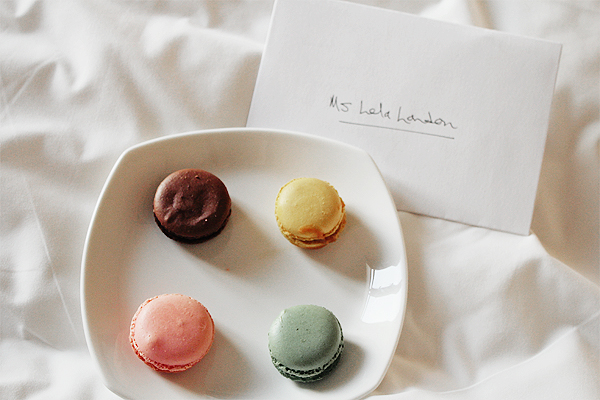 London Fashion Week can run a girl to the ground in less than a day. Put a door-to-Somerset House commute of one hour on top of shows, parties, and meetings? You're pretty much done for. With this in mind, I swapped my Sunday commute for a door-to-show time of five minutes by spending the night at the fabulous One Aldwych.
One Aldwych is a five-star award-winner of the highest degree. An Edwardian structure by build, the heart and soul of the hotel is in its modern contemporary design and a 400-piece art collection purchased by Campbell Gray featuring artists such as Cecilia Vargas, Richard Walker, Joost Beerents, Emily Young and Justine Smith.
Having checked in a bit too early, the delightfully efficient staff took me to the Lounge at One – their luxurious secret lounge for guests – while my room was being prepared. Being fully serviced throughout the day with a changing menu of light dishes as well as cocktails, wine and hot drinks, the private lounge brims with an incredible selection of books from leading art and design publisher, Rizzoli, as well as newspapers, magazines, and iPads. Taking advantage of a small break in my Fashion Week schedule, I reclined with a cappuccino and my most-trusted technology to catch up on a little work in plush-feeling privacy.
Not too long after caffeinating for the hours ahead, I was collected to be brought to my Deluxe Room. By habit, I rolled around the king-size bed (with the finest Frette linen) and checked the complimentary wi-fi before surveying the rest of the room. Overlooking one of the busiest areas in London, it quickly became obvious that all views were wonderful and their triple-glazed windows were a phenomenal investment. The room was indeed beautiful and One Aldwych's small features made all the difference; individually controlled air conditioning, mist free mirrors, a power shower, a mini television in the bathroom, a bathtub big enough for you and all your closest friends, 100% pure and natural bath products from PlanTation…the list goes on.
Though I did not have time to take advantage of it this stay, it is worth mentioning that all guests have access to the Health Club and its amazing facilites. The calling card is a mood-lit chlorine-free pool with underwater music, but guests also have access to their sauna, steam room, and rain showers.
Returning later in the day after a hectic slice of London Fashion Week fun, my best friend and I settled into the Lobby Bar under gargantuan polished oak arched windows for a quick bite and champagne cocktails. By name alone, I couldn't refuse the Valentino Red (a cocktail inspired by the Valentino: Master of Couture exhibition at Somerset House itself); a beautiful strawberry-garnished glass of champagne served with caviar soaked in Aperol, Campari and Italian bitters. He, instead, went for the 'Apple & Earl Grey' – fresh apple, Earl Grey liqueur and bergamot foam topped with champagne. Deciding to not spend the night with champagne brains, we ordered sharing plates of dorset crab on toast (delectable), onion and rosemary tartlets with Golden Cross goat's cheese (flavourful and simplistic) alongside goujons of pollock with hand-cut chips and tartare sauce (which were impossible to finish).
As soon as morning rolled around I – sleepily – tucked into a classic plate of eggs benedict at Indigo but decided to return go all-out in the evening for a spectacular dinner treat (see the full review on this week's Food for Thought column!)
Thank you, One Aldwych, for getting me through the week.