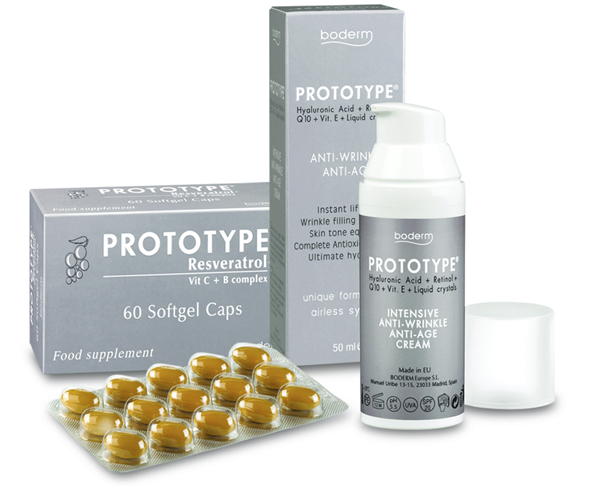 Ladies and ladyboys, let me introduce you to your new best anti-ageing friend: Boderm Prototype. I know what you're thinking, but after trialling it for roughly two weeks I can confirm that this is not just another expensive tub of moisturiser.
Recently skin specialist and accredited UK consultant dermatologist Dr Russell Emerson joined forces with Concept Healthcare to bring Boderm's Prototype – the anti-ageing duo you see above (available online at Skin Centre) – to the British market. The first product in the duo is the Prototype Anti-Wrinkle Anti-Age Cream, £39.49, which combines hyaluronic acid, retinol, Q10 and vitamin E to provide short-term rapid tightening of the skin as well as long-term strengthening of the skin's connective tissue. Though I am lucky enough to have a 'young' canvas, the befores and afters that I have seen on deeply wrinkled skin rival the most kick-ass and invasive anti-ageing injections around. With an SPF of 20, it is a preventative and reparative step that I would recommend to anyone.
The other product in the duo is the Prototype Softgel Capsules, £29.59, which contain Resveratrol (clinically proven to have an anti-oxidant effect that is 17 times greater than coenzyme Q). Containing a potent combination of resveratrol and vitamin C and B complex, the capsules provide anti-oxidant protection which is proven to enhance skin texture, reduce wrinkles, as well as diminish age spots and redness while supporting new collagen production.
With products like these on hand I think it is rather unlikely that I am ever going to stop being asked for ID.