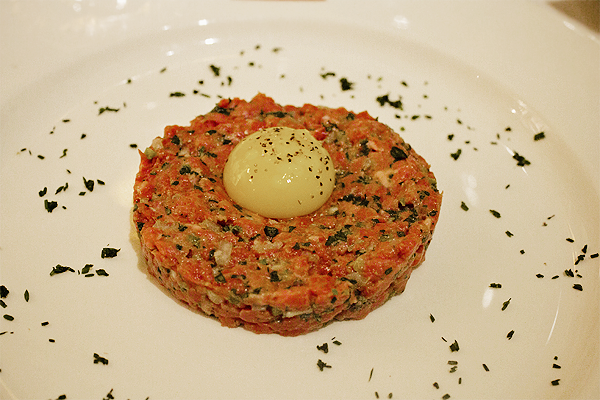 Though I have yet to sample the goods that have earned Raymond Blanc and Le Manoir aux Quat' Saisons two shiny Michelin Stars, his diffusion offerings at Brasserie Blanc on Charlotte Street have earned the chef and restauranteur two thumbs up from me.
The no-nonsense French brasseries have a fortunate ability to make everything on the menu look orderable. Naturally, this led our table to order a cutlery-shuffling selection of starters which included an I'd-eat-that-as-a-main plate assembly of chicken liver parfait, rosette de Lyon, red onion marmalade, home-smoked salmon, horseradish dressing, cucumber crème fraîche, carrot vinaigrette, and celeriac remoulade as well as escargot showered in enough garlic to incite Transylvanian hysteria (just the way I like it).
Though I was initially drawn to my table neighbour's branded plate of roast lincolnshire free range pork belly with crackling, roast apple, and green apple sauce (their ooh's and ahh's were hard to ignore), I decided to test the waters with their steak tartare. Test, I say, because the past few times I have raw-ed it up on the steak front I have ended up with poorly seasoned fare that bores at first bite. Thankfully, Brasserie Blanc restored my faith with a hand-minced fillet steak, egg yolk, capers, shallots, gherkins, Dijon mustard and Tabasco beauty.
Obviously, such a healthy portion of protein needs to be followed with massive desserts. After stealing bites of a fruit-packed cherry and apple crumble with vanilla crème anglaise, I moved onto the 'Winter Pavlova' – scattered in cinnamon apple, cranberries and toasted almonds – and sent myself into a rather delightful food coma. It may not be Manoir, but there are stars in my eyes for Brasserie Blanc.