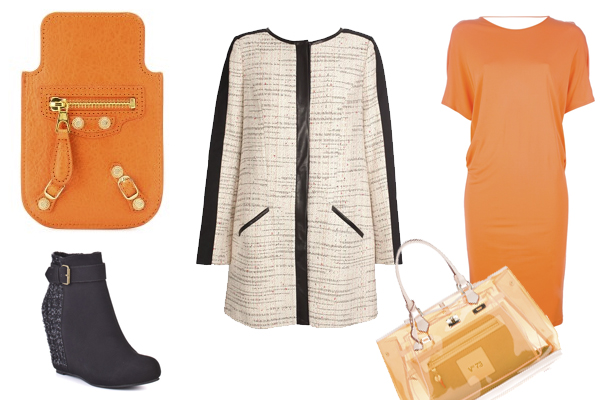 More often than not I find myself the victim of some sort of phone-related problem. Though I have had a Blackberry since I was sixteen, I recently found myself to be completely out of sync with my friends-cum-time-cum-calendar-cum-LIFE when it decided to never switch on again. For no apparent reason.
Thankfully I had kept my previous handset stored away 'in case of emergency' so I didn't have to splash my hard-earned cash unexpectedly, but it hasn't stopped me from window-shopping the iPhone 5 on the Carphone Warehouse website every few days. Though I appreciate the off-screen keypad on my Blackberry more than any feature on any gadget I own, this 90s version of my smartphone simply does not cut it.
While pondering the all-important issue of smartphone selection, I have also been compiling outfits to match iPhone covers. Natch. In the look above, I based the entire look around the idea of showcasing the rather expensive Balenciaga orange leather iPhone case (to justify it, simply think about the cost per wear. It's something you use daily!). To tie in the orange without doing a head-to-toe sunshine nightmare, I paired it with a gorgeous MSGM draped back dress and my latest dream bag nominee, the V73 clear bag. To break up the orange, the look is topped off by a Jason Wu leather trimmed tweed coat and Eighty Twenty Tessa black tweed heels.
As for the iPhone cases below, these are simply a selection of a few of my favourites. Click to your smartphone's content!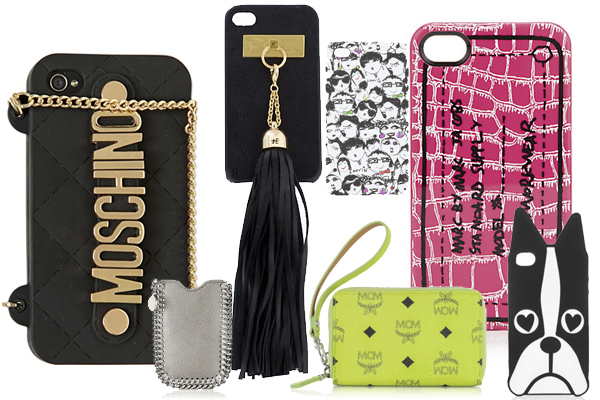 Marc by Marc Jacobs Dreamy Graffiti iPhone Case
Lanvin White Faces Print Iphone Case
Marc by Marc Jacobs Trompe Croc iPhone Case
Falabella iPhone Case
Jagger Edge Hang Fire iPhone Case in Black
MCM Color Visetos Signature iPhone Case
Marc by Marc Jacobs Shorty dog iPhone case
Moschino Chained logo iPhone case