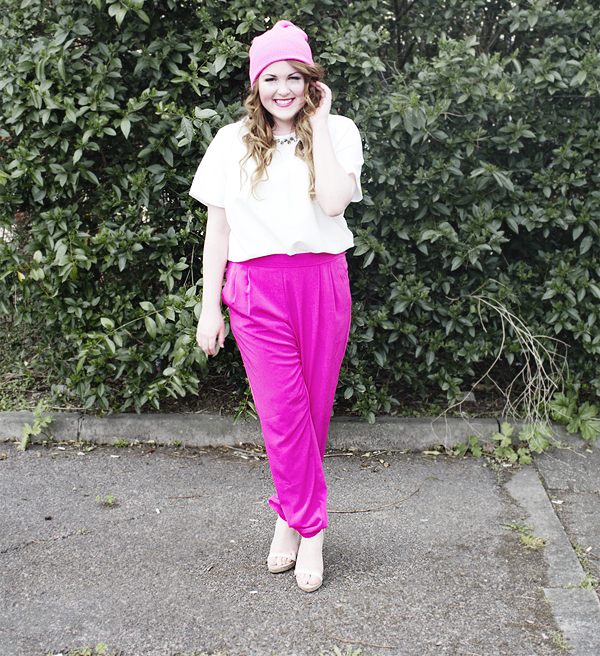 Hold the freaking phone; I WEARING A BEANIE AND JOGGERS.
Probably quite a departure from the perpetual rotation of dresses you all have seen me in until this point, the reason for said beanie and joggers is a good'un! Recently, Westfield Stratford City invited me to pick a blogger friend and style her completely out of her comfort zone. For giggles, the selected blogger would also have to deal with my total control freak stylist nature and get me into something I wouldn't typically wear, as well.
I couldn't think of anyone better than my lovely friend and blogger Miss Hannah Rose. With model looks and a 90s Grunge Barbie fashion sense, she is a stylist's dream. Prim pastels, retro florals and skyscraper heels were on the attack. Check out Hannah's look (and Hannah's blog!), below.
For my own look I believe we took five thousand laps of Westfield Stratford before we bought a single thing ('sup, difficult customer). Eventually deciding to do oversized sportswear (the antithesis of my typically tailored wardrobe), I kind of adore the final look. I mean, she got me smiling…IN A BEANIE. Mad props.
What I Wore:
Pink formal joggers from Topshop
Pink beanie from Topshop (similar here)
Strappy nude heels from Forever 21 (similar here)
Oversized white tee with embellishment from Primark (for serious)
For more SS13 style inspiration don't forget to visit Westfield's fashion hub here – http://uk.westfield.com/uk/fashion