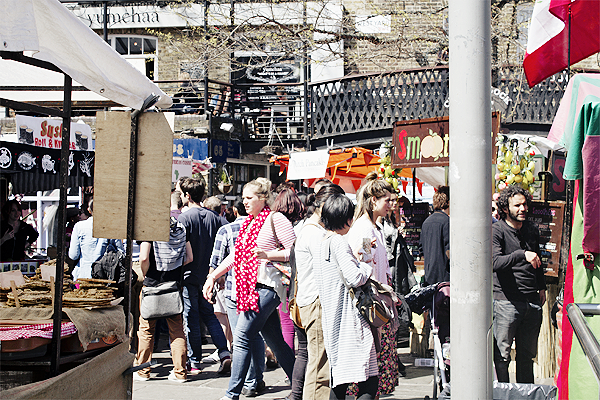 Last Friday happened to be a rare and ridiculously gorgeous day in London where everything was illuminated a little brighter than before. The type of day that calls for massive food and drink indulgence.
Thankfully, Camden Lock Market recently collaborated with We Make London (a creative organisation who support British designer makers) and City & Country Farmers' Markets to launch Camden Lock Fridays – a weekly celebration of 30 or so small businesses and stalls in the Middle Yard which alternate Fridays between each organisation.
Naturally, I geared up with a plate of Hola Paella's theatrically-served paella and hopped around the stalls on one of We Make London's allocated weeks. With an enormous selection of hand crafted products (heavy on jewellery, textiles, and small gifts) on offer, there was no better way to spend a Friday afternoon in the sunshine. Highlights included illustrated cards from Fur Feather and Tails, pocket-pimped shirts from Dead Gent, kitschy illustrated brooches from Andsmile, and – my personal favourite – Kate Rowland's Feminist necklace.
After rounding the afternoon off with a virginity-breaking trip to Chin Chin Labs (Europe's first ever Liquid Nitrogen Ice Cream Parlour), I believe I am having a bit of a love affair with Camden. Don't tell*.
*JK. Tell everyone.