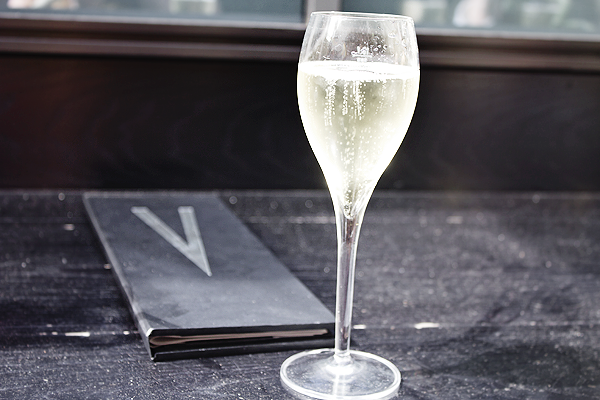 FACT: Since opening earlier this year, not a single trip to The City's Voltaire Bar has been anything less than stellar. It is rare for me to get all hot and bothered over a bar, but Voltaire hits every mark for me:
– It always appears to be tourist free (though being connected to the Crowne Plaza hotel suggests that this is not legitimately the case).
– The Vaults. Though the main lounge bar area is beautiful in its own right, I am a sucker for Voltaire's vaults. In a range of sizes, I would say the largest vault – 'The Aristocrat' could comfortably seat ten people for drinking though the roofless alley ("cigar garden") that connects the vaults to the lounge acts as an amazing space of its own and is heated throughout Winter.
– Fine Cuban cigars. Not only stocked, but encouraged.
Popping in for a rather long and cocktail-doused lunch last week, our group first attacked their Pommery Library before placing countless orders of New Fashioneds (Makers Mark, homemade cinnamon syrup, and orange bitter), Made in Londons (Chase vodka, fresh ginger, fresh basil, vanilla syrup, and a splash of ginger beer), Symphony No. 9s (Russian Standard vodka with chocolate, berries, and a dash of vanilla syrup), and the silent-but-deadly Japanese Mojitos (Sake, Cointreau, apple, dragon fruit, and topped with soda).
Though a few health-conscious souls were smart enough to order a gorgeous plate of l'Agricola salad (baby spinach salad with fresh goat's cheese and walnut balsamic vinegar), I was well aware that I would fall asleep before dinnertime if I didn't get Voltaire's triple layer club sandwich in to soak up a little Sake. Hungry Men and Hungry Man-sized appetites, you will not be let down by this one; grilled chicken, crispy bacon, fried free-range eggs, lettuce and beef tomato in thick crushed bread, served with chips.
Lunchtime. Summer in The City. There really is no better option than Voltaire.