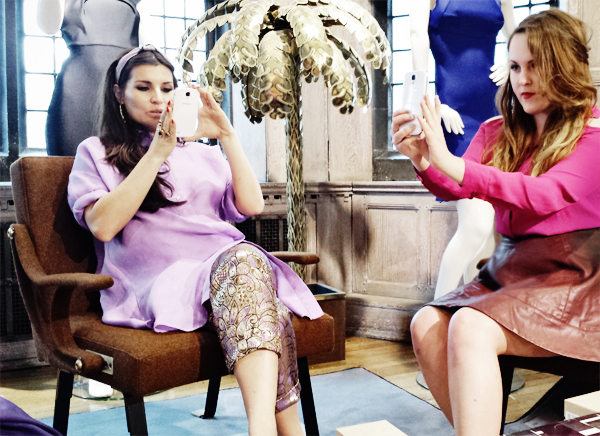 As someone who relies heavily on a smartphone for life and work, I have never made a great choice when it comes to picking the right one. While my service provider has never let me down (a rare thing, going by friends' experiences), my should-be handheld assistant has been more problematic than helpful
Until the Samsung Galaxy S4.
When invited to Liberty London to explore the latest advances of the Android King with superstar stylist Grace Woodward, I was assured that a life of failing phones and useless apps (#berryproblems) was behind me. Naturally, the Galaxy S4 has become something of an obsession.
While Grace and I chillaxed under a rather chic gold palm tree, we set out to get to know the S4's most useful features:
• Air Gesture – See that ridiculous gif below? That is us trying to develop a signature Air Gesture. Technology that allows you to scroll through images, music, web pages, and even answer calls without having to touch the screen (handy for hop-out-of-the-shower calls, I've learned!).
• Sound & Shot – A stylist's dream. Alongside a photo, the Sound & Shot feature records a few seconds of audio and keeps them together. For press days and fashion shows, this feature means shoot ideas can be organised faster than ever before.
• Dual Camera – You can take simultaneous photos and videos using both the rear and front cameras, then blend the pictures together. The idea of using this for future travels is beyond exciting (front/rear view from the Eiffel tower, anyone?)
• S Translator – Speaking of travel, the S Translator is a seamless app that provides instant translation, using text or voice translation on applications including email, text message and ChatON.
• Samsung Smart Pause – I think they've used some gypsy magic on this one. You can literally control the screen using your eyes. As well as scrolling down a page when your eyes look from line to line, when you are watching a video the video will pause when you look away, then starts up again when you look back.
• S Health software – All those annoying fitness apps stripped down and done right. It even has a function to track blood glucose (as a Type 1 diabetic, this is a very welcome addition!)
It seems a little cookie cutter to say, but I truly believe this phone is making my life easier. 100% recommended.