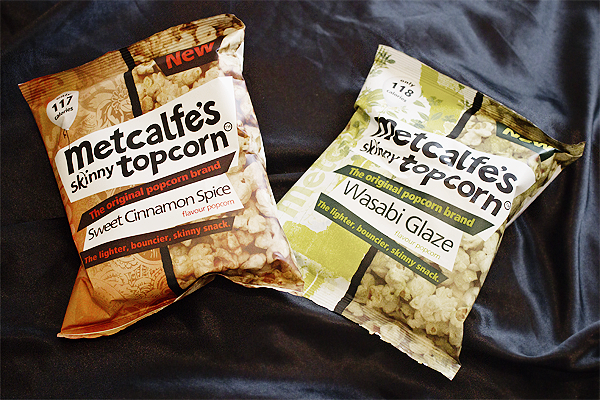 As a food writer I often get the impression that people expect me to whip up a culinary delight for myself at each and every meal which takes place outside of a restaurant. The reality is quite the contrary. Throw a massive house move into the mix and you will barely have me touching a kettle, let alone a saucepan.
To stay healthy I do consume a lot of raw food and salad, but these three grocery 'cheats' have definitely made their way into my body amidst weeks of organising and packing.
Metcalfe's Skinny Topcorn
Though I was first introduced to Topcorn at Fashion Week (it is a true backstage staple), I had yet to get the hype over it until trying their brand new Sweet Cinnamon Spice flavour. The 25g packs contain only 117 calories but are packed with enough flavour to satisfy any sweet tooth. Their original Wasabi popcorn has turned into 'Wasabi Glaze' – also a tiny bit sweeter – and is equally addictive.
Emmi Caffe Latte
While my beloved coffee machine was still boxed away, I ran out looking for a quick caffeine fix and was rather surprised that Emmi's 'skinny' cafe latte only had 90 calories and tasted like a latte (let's face it, most store bought latte's taste like sugar). I have since started using a multitude of their flavours in cocktail mixes – the ultimate cheat – when friends drop in unannounced. Fact: An Emmi latte with Bailey's is the quickest and most delicious booze-shake around.
itsu Miso Soups
As a judgemental miso consumer, I have fallen tongue over head for itsu's miso soups. Unlike other miso soup products, both versions – veg and fish – are made from a smooth paste rather than a powder. Nowhere near as salty as their predecessors and shockingly filling for only 44 calories.