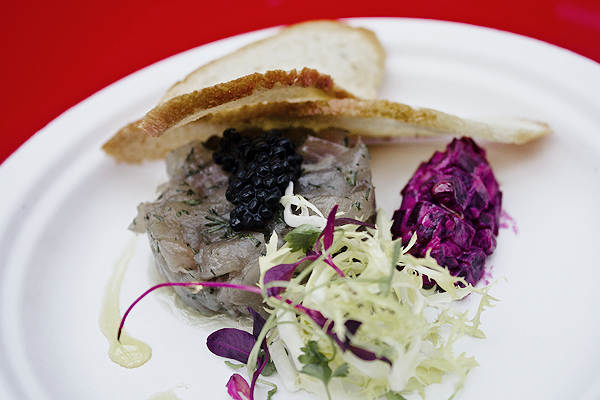 From the 25th-27th April a brand new event, brought to us by the creators of Taste Festivals and sponsored by AEG, took over Tobacco Dock: The Lab. Welcome to foodie heaven.
Over those three evenings guests of The Lab were able to visit the docks and indulge in experiences led by some of the greatest chefs in the world. Based around the idea of wild experimentation (the X Factor for many of the chefs in attendance) and preparation techniques, the likes of Alex Atala (Chef-Patron of D.O.M), Massimo Bottura (Chef-Patron of the world's 5th best restaurant, Osteria Francescana), and Ashley Palmer-Watts (Head Chef at Dinner by Heston Blumenthal) were just a few of the heavy-hitters headlining the event.
Though my schedule only allowed me to spend the first night there in full, it worked in my favour as many of my must-sees took to The Lab that very evening. Kicking off with Alejandro Diaz of Bubble Food taking on the Experimental stage, I was finally (FINALLY!) able to sample some of Bubble Food's wonderfully insane culinary concoctions (bubblegum popcorn paste, anyone?).
Teased by tasters, I wandered around armed with a paper bag full of colour-coded casino chips that entitled each attendee to champagne, a Rekorderlig cocktail, three 'Dishes' (the best of which was Dan Loflin's tartare, above) and an 'experimental' dish. Bubble Food, unsurprisingly, reigned supreme. In addition to trialling their liquid nitrogen poached mousse and creating molecular caviar, I almost stole an entire tray packed with demonstrations of their "spherification technique" (these guys are turning olives into liquid, injecting them into a bath of calcium to form into a bubble, and then letting them pop on the tongue). Mind BLOWN.
Before I could grab a second/third/fourth/whoscounting cocktail, my date and I traipsed into the 'Noma Flavour Test' to spend half an hour in a experimental tutorial with Lars Williams (Noma's head of research and development) and create our very own Noma-worthy dish.
I cannot wait to see where The Lab goes from here…