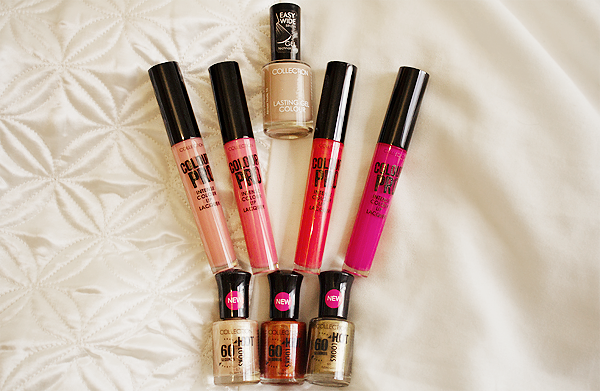 Collection may be one of the most affordable beauty brands on the high street but they never fail to blow the ladies of the UK away with fashion-forward products that really deliver. Check out my beauty pyramid for their latest and greatest…
At the top; Collection Lasting Gel Colour Nail Polish (£3.19) in 10 Almost Nude. I have an incredible knack for messing up at-home manicures which means that the rich nude manicure I'm currently sporting is something of a miracle. The consistency is gel-like, the brush is thick, and the colour is chic as they come.
Next row; Collection Colour Pro Lip Lacquer (£4.19) in 4 Prom Queen (perfect nude), 3 It Girl (a pink lipstick's best friend), 2 Show Off (a wash of muted red), and 1 Rebel (hot pink). These 6ml tubes do what they say on the tin. They are sticky but only enough to give a full 'lacquer' effect. Easy to wear and last for hours.
Last but not least; Collection Hot Looks Nail Polish (£1.99) in 67 Desert Rose, 65 Scorched, and 66 Aztec Gold. These metallic shades are made for Summer and in only two quick coats each shade builds up for a gorgeous manicure. In my opinion, Desert Rose would be a beautiful wedding nail colour.