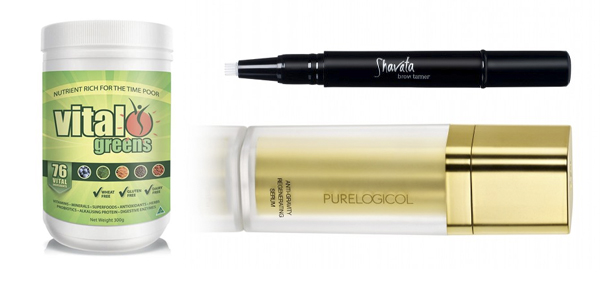 Vital Greens
When it comes to beauty products that work from the inside out, I flit from product to product consistently. Though certain vitamins and supplements have made a difference, nothing has wowed me like Vital Greens for a while. Vital Greens is an enzyme-rich powder "Superfood" that contains a total of seventy-six nutrients that blend naturally occurring whole food source vitamins and both macro and trace minerals. It's the most clean and alkaline-promoting supplement I have ever tried, and the mix of antioxidants and phyto-nutrients are fantastically beauty-boosting.
PureLogicol Anti-Gravity Regenerating Serum
I know, I know…anti-gravity for someone in their twenties. I'm a preventative nutjob but I know a good product when I use one. Using micro-collagen peptides, PureLogicol stimulates collagen and elastin synthesis to reduce wrinkles and improve facial contours while using botanicals, antioxidants and nano-vitamins F, A, C and E to promote an allover youthful complexion. No parabens, alcohol, artificial perfume, or artificial colours to boot. It's a silky, silky dream.
Shavata Brow Tamer
I love a defined brow but find using brow wax way too heavy for my very neutral 'face of the day'. After searching high and low for something a little more natural, Shavata Brow Tamer has become my holy grail brow product. The product – a clear gel – is distributed from a click pen and can simply be brushed through the brows for a manicured all-day hold that frames the eye while being completely undetectable.
Renunail Three-Step Programme
Only a few minutes before starting this post I got my hands on Renunail's new "Three-Step Programme" (Rescue, Restore, and Condition) which is sure to become a year-round obsession for me and nail-abusers alike.
Starting with the calcium-fortified Renunail Strengthener, you start by applying two coats onto clean nails (avoiding the cuticle area) and then one coat daily for five days. Step Two – Renunail Sensitive – uses diamond powder, keratin, and pearl extract formulation to add an extra tough layer to your nails before the final step – UV-filtered Renunail Nourishing Oil. The oil can (and should) be used at any time as its blend of jojoba, sweet almond, olive and apricot oils hydrate the nails and cuticle area while tea tree oil prevents bacterial infections.