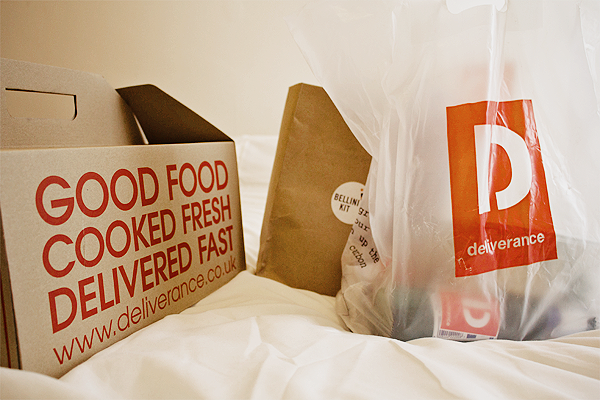 Thanks to a very social job that often results in a day of eating (and eating well), I have yet to experience a Take Out Experience a la Bridget Jones. In fact, when I am home for a meal I tend to whip up something very clean and simple. At the same time, I love the lazy girl's tradition of take out, drinks, gossip, and movies with hot men. Thank goodness for Deliverance.
Instead of MSG-filled mystery meats and overpriced boxes of terrible Italian food, Deliverance is a food delivery service that caters to food lovers. No more expensive than any other Central London food delivery service, Deliverance runs multiple kitchens of talented chefs that can make you everything from onion bhajis to Thai salads.
Deciding to feast under the eyes of Seann William Scott and Paul Rudd (swoon), my gorgeous vegetarian accomplice and I ordered like we had been starved for years. Starting with their Bellini kit (Rialto Prosecco and luscious Simply Nectar Peach), she opted for a veg fest of chilli basil stir fry, garlic chilli lemon broccoli, tofu and veg pad Thai, veg spring rolls, onion bhajis, and steamed rice. I indulged in their chicken and chorizo burger (a breast topped in generous chunks Brindisa Chorizo, Spanish aioli and chilli jam in a seeded bun with lettuce and tomato – it was perfect) and their Bang Bang chicken salad (satay sauce, spinach, and crushed peanut goodness) before we both wrapped things up singing Kiss songs and speedforking a thick chocolate brownie loaded with toasted hazelnuts and cream. (Brooklyn Lager and Peroni to finish, natch).
I'll be seeing you again, Deliverance.