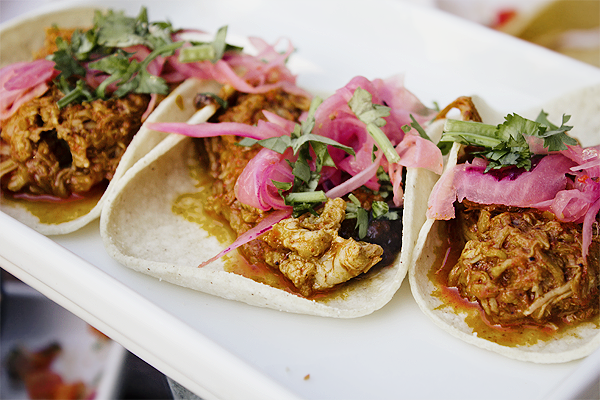 If you want to pique interest in your restaurant chain, I believe building build a branch out of eight shipping containers and setting it next to the River Thames will get the job done. London's Wahaca – who have done exactly that – may serve the closest thing to the midwest Mexican that I grew up on but their location at the Southbank Centre is a world apart.
On a sunny day, Wahaca's Southbank Experiment practically sizzles with that Good Time Feeling; even the waitstaff (hi, Dan!) seem to be hosting a party, rather than running themselves ragged to cater to all areas of the bustling shipping containers.
To do Wahaca justice, you have to start with a Bloody Maria (Tequila, Orange, pomegranate & tomato sangrita) or Hibiscus Mojito (Tequila, Mint, lime & hibiscus) cocktail, get your inner fiesta on, and choose all of the tapas-style dishes your heart desires.
On last week's escapade, we settled on burritos, tacos, taquitos, and crispy fried chunks of sweet potato dressed with smoky caramelised mojo de ajo (a must). Though every plate was close o being licked clean, the overall highlights were the pork pibil tacos (slow cooked in their special Yucatecan marinade with fiery pickled onions) and a cactus and courgette burrito (sautéed courgette, cactus and new potato, layered with feta, a double dose of red salsa, frijoles, cabbage, and green rice).
Foolishly opting for dessert, we tried to share a caramel blondie tart (a dream for anyone who loves a little dulce de leche) and a brownie-esque chocolate tres leches cake topped with a scoop of peanut butter ice-cream. We failed. Our bellies thanked us.
Si ya no te ama Wahaca, le encantará Wahaca.