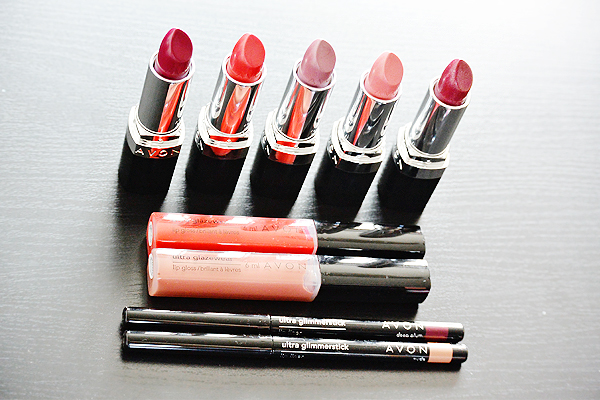 Next month, Avon are releasing 17 new eye colours and 60 new lip colours to launch a brand new make-up collection. Spearheaded by the creation of Avon's 'True Colour Technology', this new collection will feature advanced and improved versions of their best selling formulas.
My personal highlight? The new Ultra Colour Lipstick. Available in thirty shades, these babies will be priced at £7.50, contain a SPF of 15, and wrap each pigment particle in a moisturising blend of Shea butter and vitamin E. The shimmer payoff from Frostiest Mauve (far right) looks incredible in photos.
Photographed below the lipsticks you will find two of eighteen shades of Ultra Glazewear Lip Gloss (£6.50)Packed with anti-oxidant properties from arctic berry oil, these glosses are virtually weightless despite a high colour payoff and super shine.
The Glimmerstick lip liners round off the first photo in the shades Simple Spice and Nude. £6 waterproof lip liners that can stay put through a gin and tonic? Lela approved.
Though Avon are also releasing eyeshadow duos and an eight-in-one Naked-comparable palette called 'The Nudes', I was immediately drawn to their foolproof True Colour Eyeshadow Quads. Seen here in Emerald Cut, Jeans, Purple Haze, and Stone Taupes, these saturated shades are numbered 1-4 for super easy application.
Lastly, Avon's Ultra Colour Lip Crayon. Though they look like a lipstick, they act like a lip pencil. At only £7.50, the shade 'Reddy For Me' (a red for all skin tones) is set to find a permanent home in my handbag.