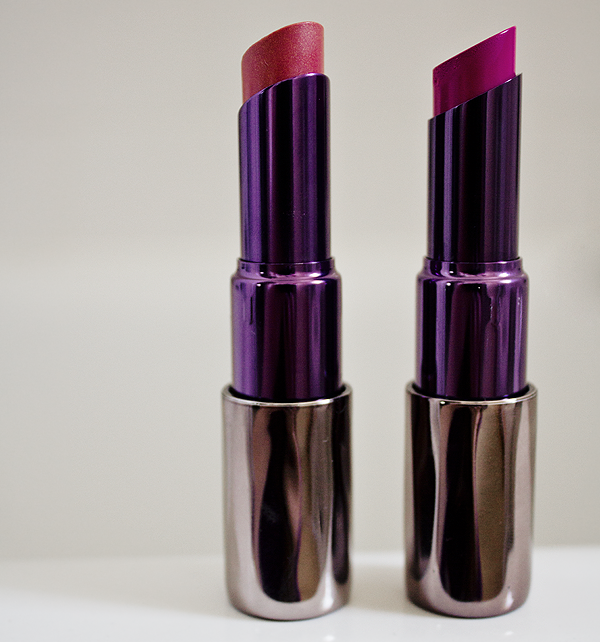 Holy moly, Urban Decay have been working hard on some heavy hitters.
Urban Decay Revolution Lipstick
Seen here in Naked (a nude pink) and Anarchy (a bright fuchsia), Urban Decay's new lipsticks are heaven sent for colour queens. The pigment load is insanely rich. So much so that I had to scrub Anarchy off of my lips when getting ready for bed. Shockingly (because long-stay lipsticks are typically very drying), they also use jojoba oil, avocado oil, cocoa butter and Shea butter to ensure a super hydrating formula. One in every colour, please.
Urban Decay Naked Skin Ultra Definition Pressed Finishing Powder
Jet-milled powder is the creme de la creme and Urban Decay's version is no exception. Free of parabens, alcohol, and fragrance, this finishing powder offers a soft-focus effect to the skin while keeping shine at bay. True to the 'Naked' name, it is also completely undetectable as a powder.
Urban Decay 24/7 Glide On Lip Pencil
Relaunch of the century! To match the lipsticks, I now have my hands on Naked2 and Anarchy. These waterproof lip liners, in my opinion, are unbeatable. Worn alone or under lipstick, they are also an incredible lip primer (get Ozone – their clear shade – if intimidated by colour pencils).
Urban Decay Brow Box
When a homegirl loves her brows, that love comes with a troublesome arsenal of brow products. Urban Decay have created a bite-sized brow kit to make things easier. Two shades of silky brow powder, setting wax, mini tweezers, two mirrors, and two angled brushes encased in a double-layer compact. Our brows thank you, UD.
Urban Decay B6 Vitamin-Infused Complexion Prep Spray
Created from a savvy partnership with Skindinavia, this is the first prep product I have seen utilise a stabilised form of B6 (which absorbs oil, reduces redness, and minimises pores). As well as giving your makeup a beautifully soft canvas, the spray's blend of vitamins and antioxidants (plus skin-clearing willow bark!) consistently works to improve the look and health of your skin.