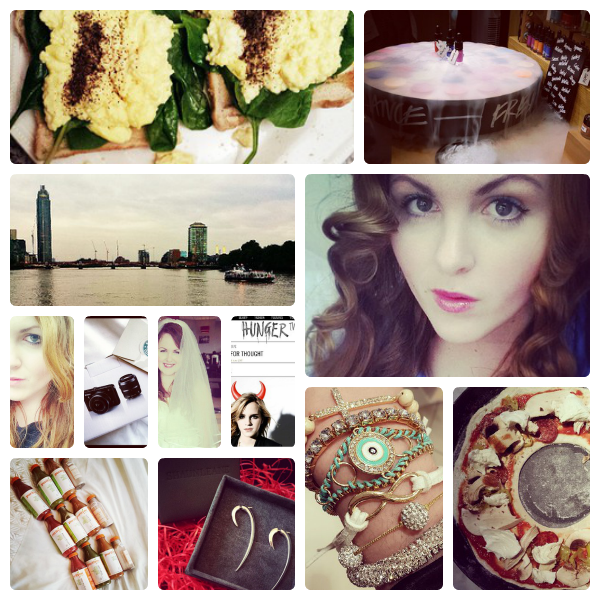 Instagram (@lelalondon) – left to right, top to bottom:
1. There's Heston. Theres Gordon. There's Jamie. There's Kathy (who made this masterpiece at 2am while intoxicated, guys.)
2. Making personality potions with Lush.
3. Goodnight, beautiful city.
4. Every time I wear blue, I look like I'm wearing blush. Surely there's some colour theory that explains this?
5. Most people's hair turns lighter in the summer. Apparently, mine gingers. (This was taken only two days after the previous photo!)
6. The best delivery of the week. Might have to crack this out at Wimbledon tomorrow.
7. So, I was told I was a bride and got to my wedding reception in about 30 minutes today.
8. What did Miss Emma Watson say to get the media riled up this week? Find out in Fash For Thought at HungerTV.com!
9. Meal planning. (For the full review of the Purifyne juice cleanse, head to Food for Thought!)
10. The most amazing talon earrings from Shaun Leane.
11. Creating magical arm parties with Claire's.
12. Making my tiny pretty pizza at Pizza Express to stuff some salad in. Whee!
Instagram videos:
1. Pretty little psychopaths.
2. Loooooove the walk to bestie's house.
3. The lethal combination of cocktails and a low tide.
4. Blowtorch magic from Bel & Brisket at the Riverboat Food Fest.
5. Love a bit of Selfridges wandering before they open.