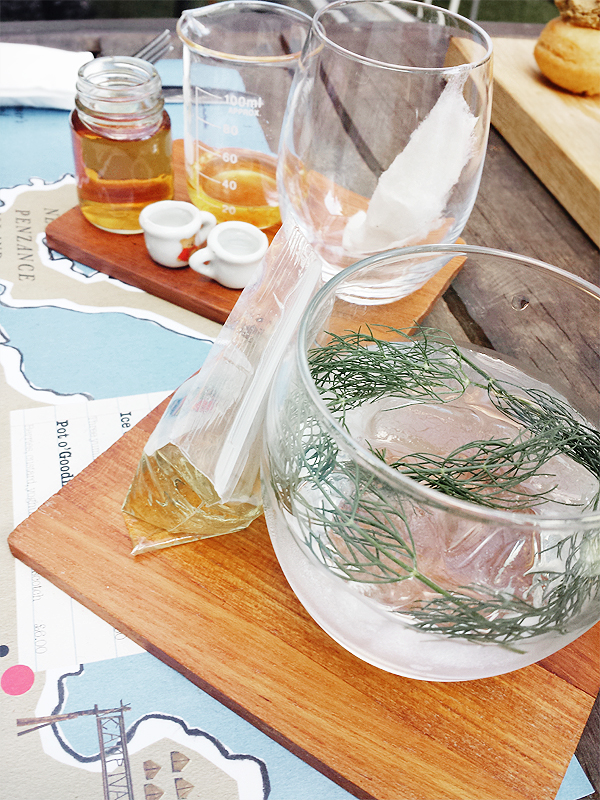 Most people I know love Wes Anderson's films, but few have gone to Fika-esque lengths to celebrate that love. Quite literally turning their restaurant into a Wes Anderson shrine, the Swedish bar and kitchen recently launched a three month pop-up in Fika with an Anderson-inspired new menu, drinks list and – believe it or not – interior.
For pop-up predeliciton, they have lined the walls with Max Fischer's signature tie and glasses combo from Rushmore, Ben Stiller's tracksuit from The Royal Tenenbaums, as well as original artwork by illustrator Danijela Dobric.
When we popped along to sample the menu, The Manfriend and I were welcomed with two appropriately named cocktails; The Life Aquatic (dill vodka, elderflower and bitters, topped with lemonade and seperated into a glass and goldfish bag) and The Inventory (Cognac, chilli caramel, Absolut vanilla and cotton candy), which lets you play beaker-mixing cocktail chemist.
From their menu (which, ingeniously, is on a map of New Penzance) we sampled Darjeeling Gravad Lax (home cured salmon with darjeeling jelly), Foxy Doughnuts (homemade doughnuts with chicken liver pâté and apple and beetroot puree) and Tenenbaum's Dinner (beef sliders with goats cheese, applewood cheddar, and brie) – my personal highlight.
Whether you feel like the long long sister of Margot Tenenbaum or not (ahem), you have to pay Fika's pop up a visit.