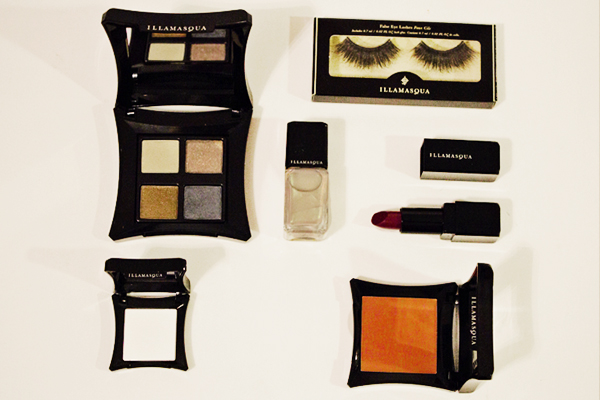 The Sacred Hour: I can't remember the last time I got so excited about a make-up collection. (Then again, this is Illamasqua. I should have expected it, eh?)
As you can see, both the products and campaign imagery are absolutely stunning. Inspired by two pivotal times of day – dusk and dawn – The Sacred Hour collection has been dreamed up to capture the celestial beauty in those "spiritual hours of empowerment" (Alex Box's words).
The epitome of dusk, for me, is best executed with their new nail polish in Hemlock (a pale opal green), which has a beautiful nude iridescence. That and their new eye shadow palette, Reflection, which features features Precipice (a soft lemon), Acute (an ash taupe), Graphica (a graphite grey) and Dart (a toasted bronze) in a creamy and brightening formula which shimmers without being glitter-heavy.
For colour lovers, Illamasqua have also released a deep red/violet matte lipstick called Shard and a dusky coral cream to powder 'Velvet blusher' called Sleek which, thanks to mineral mica, is extremely long-lasting.
For make-up artists and playful preeners, the most exciting releases follow the 'best til last' rule. Firstly, new va-va-voom false eyelashes in Lush (though they are super voluminous, they are actually feathered at the bottom which helps blend them in to your natural lashes) and secondly, their Skin Base Lift in White Light. Though these concealers all have skin-lifting peach tones, the white acts as a hyper brightener when used under your normal concealer. Like light in a tub.
The Sacred Hour launches exclusively in Selfridges today (August 9th) and will be available to purchase on Illamasqua.com and in stand-alone Illamasqua stores from August 19th.
(Not pictured: Velvet blusher in Peaked and Nail Varnish in Facet.)