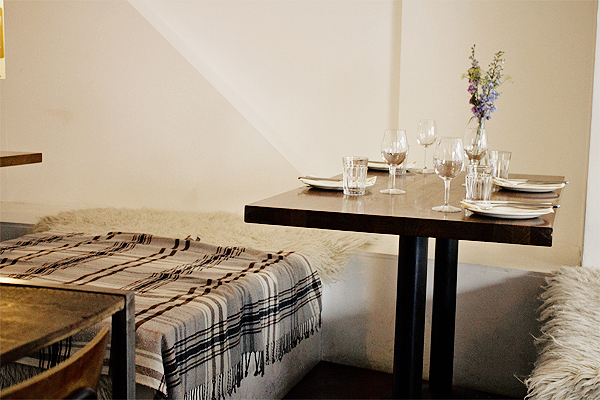 The gastronomic creativity in Dalston is – categorically – nothing to shout about. When menu-hopping the interwebs (as one does), I was surprised to see how inventive Dalston's White Rabbit sample menu read.
DSLR in hand. Underground-friendly heels on feet. Food to eat.
With a few 'snacks' on offer before delving into a kinda European/kinda Latin/kinda Asian menu of tapas and mains, The Manfriend and I decided to tease our tastebuds with moreish rosemary salt-dusted pork scratchings. Then the fun began.
To share, we ordered tapas-style plates of Hake with samphire, mache, potato dumplings and paprika aioli alongside an incredibly tender lamb belly (braised for four hours, I'll have you know) with miso Baba Ganoush, spring onions and radish. The highlight? The most incredible Spaetzle I have ever had the pleasure of eating. Somehow, a blend of peas, ricotta, hazelnuts and summer truffle create a sweet, woody blanket of flavour over a dish that would have otherwise been snubbed my carnivorous tendencies. A cult dish in the making.
With such piquant scents popping off of our plates, we couldn't help but share our mains, as well. For sir? Duck breast with baby carrots, carrot puree, wheat berry and szechuan pepper. For madam? A Chateaubriand-esque Onglet (I kid you not), with aji, burnt shallots, roasted beets and watercress. I would trade my first born for either.
While the lightest dessert option (macerated strawberries covered with crisp cherry meringue, vanilla gel and clotted cream) took my fancy, the steeped sweet corn junket with raspberries and blackberries was too intriguing to refuse. Or at least push onto someone that wasn't me (one with a sweet corn phobia).
Go now. You will not find such a spot-on combination of service, cuisine, and atmosphere in all of London. Dalston, at least.