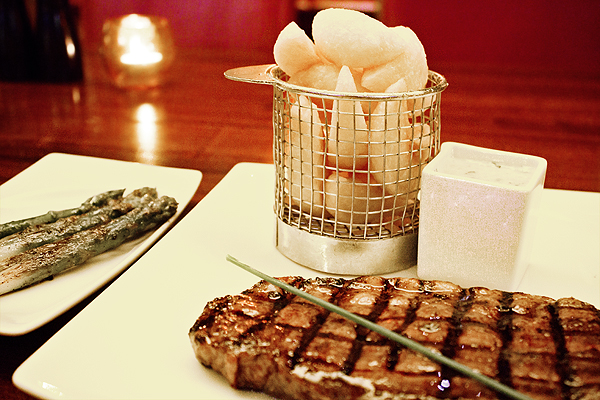 After hearing of The Meat & Wine Co's recent rebranding to The Meat Co, I felt it was time for a return visit to Westfield's most impressive dining hole.
Dinner at The Meat Co was my most unexpected and flawless meal of the month. This was thanks – in large part – to our South African waiter, Sean, whose passion for the menu and heritage of the dishes is unparalleled by recent memory.
The food ticked some boxes, too.
Coerced (by Sean's infectious excitement) into ordering the Entree Tasting Platter and Boerewors to start, we were quickly presented with a table-wide spread. The Boerewors – paired with rocket, chakalaka sauce and pap – was perfectly cooked but overshadowed by the platter of chicken wings, salt and pepper calamari (served with homemade Nam Jim sauce), bruschetta (freshly diced tomato, red onion, creamy feta, Parmesan, basil and pesto – drizzled with balsamic glaze) and beef ribs. Genuinely rib-phobic, I could not get over the meaty and succulent results of The Meat Co's recipe. I may have to start taking lunch meetings here. Messy, delicious lunch meetings.
Then again, their steak alone calls for a Meat Co Confederation. While Wagyu steak is world renowned for superior marbling characteristics and naturally enhanced flavour, tenderness and juiciness, The Meat Co's basted and flame-grilled cut of the day takes Wagyu to a new level. Dipped lightly in Béarnaise sauce between nibbles of grilled asparagus and hand-cut 'proper' chips? The ultimate mouthgasm.
Refusing to deviate from the full-menu plan, my partner and I plumped for dessert. The smart choice? Crème brûlée infused with Madagascan vanilla bean and served with a special spiced sweet pastry and strawberry sorbet. The button-popping choice? A richer than rich peanut butter cheesecake topped with dark chocolate sauce and a sprinkle of regret. Still, both delectable.
10 out of 10 (and that's not a rating I give lightly).