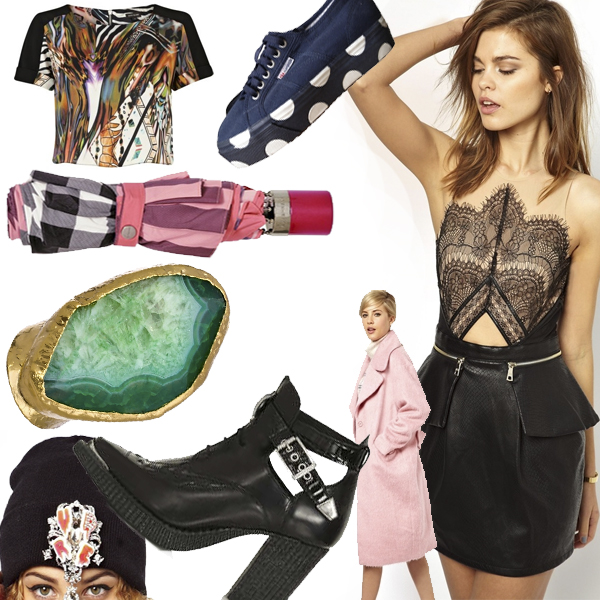 Well, the Top Trends of 2013 are kind of ugly all put together, aren't they?
Beanies – "If you like it then you better put a…cap…on…it?" Apparently so. Everyone from Tracy Reese to Kate Spade sent their models out in beanies this year. The general fash crowd didn't take long to follow suit, of course. (For example, the Rude Jewel Beanie from Funky Bling).
Emerald green – After being named Pantone's colour of the year, the deep green hue took over runways of Marni, Valentino, Dolce & Gabbana, Roland Mouret and more. (For example, Agate Cigar Ring from Charlene K).
The Kenzo sweater – The tiger sweater, the 'K' sweater, the logo itself: Kenzo had a rebirth of epic proportions – forever immortalised in sweater form. (For example, The Kenzo eye sweater).
Motorcycle cutout boots – HOW DID THESE EVEN GET POPULAR. YOU CAN'T WEAR SOCKS FURCHRISAKES.(#sockaddict…for example, these Underground cutout croc boots from Topshop).
Check, Mate – From classic tartan check to checkerboard couture, we were buying everything boxy and beautiful this year. Louis Vuitton and Balmain are to blame, natch. (For example, this Burberry Trafalgar classic check nylon umbrella).
Oversized coats – Alexander (Wang) and Kenzo (again!) sent us all into an oversized coat frenzy. Bonus points if you got your mitts on a pastel pink version. (For example, this vintage cocoon coat from ASOS).
90s revival – Bold, brash, and likely to be inspired by House of Holland, DKNY, or 3.1 Phillip Lim. Everything Cher Horowitz managed to do a rinse and repeat on the high street. (For example, these Superga polka dot flatforms).
Cropped tops – For those who dared to bare, The Summer of 2013 meant one thing: a midriff-flashing crop top. Everyone without abs can blame Peter Som, Derek Lam and Anthony Vaccarello for this one. (For example, this orange kaleidoscope print crop top from River Island).
Skin, in general – Getting dressed each morning meant getting slightly undressed for those of us who wore more than negligee to bed. With sheer organza, lace panels, and other suggestive material variations showing up at the shows of Jason Wu, Reed Krakoff and Prabal Gurung, even the good girls went a little bad. (For example, this Three Floor lace dress with a leather skirt).