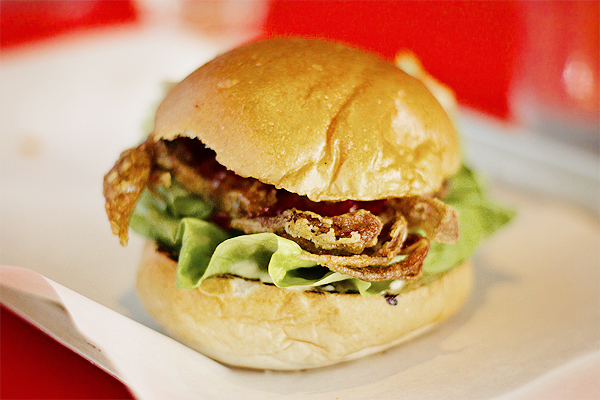 After roughly two years straight spent sampling the so-called 'Best Burger' in London from NW to SE post codes, I have yet to grow tired of the hunt. An excellent burger is hard to match, in my eyes.
The latest contender takes the form of Psychic Burger – a no-frills diner at Birthdays in Dalston. Ready to indulge, my dining accomplice and I had the wind taken out of our sails at soon as we sat down:
"I'm so sorry. We don't have about half of the things on the menu".
Having just spent an hour out of a very busy day to get to Dalston, the mean reds began to creep in. That is, of course, until we realised that with half of the menu unavailable (unusual stock problems, we were told) there was still an excellent selection of options on hand. And Aperol Spritzes, to boot.*
With smiles on our faces, we went on to order the eponymous Psychic Burger, the Soft Shell Crab Burger, bingo wings, BBQ beans, and cheese fries with short rib beef chilli to share.
GLORY, GLORY: NEW BURGER ON THE RADAR. Cooked medium rare, the Psychic Burger was a tender chunk of aged fore rib and chuck steak, topped with American cheese, a secret sauce (rumour has it, only three chefs know how to make it), and nestled in a glazed brioche bun. The components of the perfect burger.
My accomplice took the burger and smokey beans as his personal challenge of the day, leaving me to swoon over a burger of deep-fried (and beautifully seasoned) soft shell crab served with smoked garlic aioli and sweet chilli. An unconventional burger, yes, but one I would eat every day if I could.
Positive I was full after eating the hell out of the Soft Shell, I felt as though Psychic Burger would be as best a place as any to let my gluttony out to play. Those bingo wings and chilli cheese fries had nowhere to run. And, as delicious as they were, we still couldn't finish them all.
Hooray. Excuses to return.
* In my opinion, the ultimate sidekick to a juicy burger.