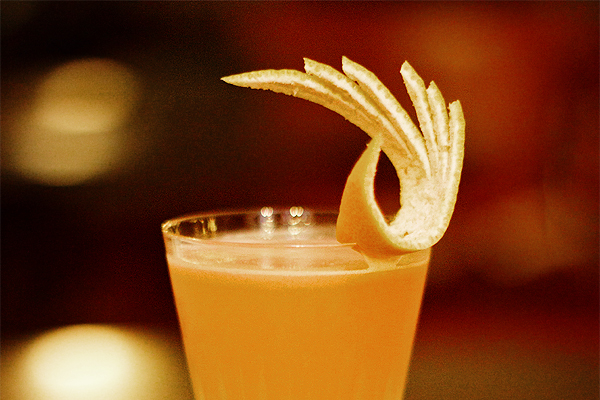 Last Friday – after a very busy morning in the rain – The Manfriend and I ran up to High Holborn from Somerset House, through tropical waves of droplets, and darted into Scarfes Bar at Rosewood London as fast as our shoes would allow.
With its own revolving entrance preceding the hotel's Edwardian courtyard, entering Scarfes is not dissimilar to leaving London. The space is indisputably slick with a tactful living room appeal: a roaring fire, sumptuous velvet chairs and books lining every inch of available wall space. Inspired by evangelist artist Gerald Scarfe – his pieces are featured throughout the bar – everything comes together as a distinctive living canvas.
Deciding to run with a literary homage, the bar have even presented their lunch menu inside an antique leather book jacket. And what a menu it was.
To start, we couldn't ignore the multitude of cocktails floating from the mahogany bar. In addition to a starter of tandoori prawns (with cardamom and burrani raita) and an exquisitely simple salad of marinated Cèpes, chorizo, and tomato confit, we submitted ourselves to the drinks menu. For me, the Seine River Fizz (Grey Goose vodka, Domaine de Canton ginger, lime juice, basil leaves, Fentimans Victorian lemonade, topped with bespoke elderflower foam) and a Bubble & Shrubs (Sipsmith gin, St. Germain elderflower, home-made berry shrubs, dashes of Orange Bitters, and a splash of bubbles) for the gentleman. Both heart-breakingly delectable.
For our mains, we initially went for the same dish (the 'Bhapa Bagda' Bengali Whole Lobster), but decided to split it and order an accompanying casserole – with Venison, root vegetables, and veal jus – to share, as well. The lobster, as expected, was a slice of coconut and mustard-spiced heaven. The casserole (our 'token second'), as unexpected, impressed us all the same. Served in a Staub tin alongside country bread, the meat was incredibly tender and flavourful without an ounce of stodge.
At first offer, we were positive we would abstain from dessert in favour of cocktails, but were quickly coerced into a Pear & Ginger crumble with spiced anglais and a pot of Winter Rumtopf with rum & raisin ice cream. While I would have happily finished my meal with a Hat's Off (Jaral de Berrio Mezcal, Aperol, lemon juice, grapefruit juice, agave nectar) alone…
…I just can't do preserved fruits…
…The Manfriend's serving-size-for-two Pear & Ginger crumble was an excellent goodbye to both bar and waistband.
This bar is destined for The Lists: Top 50 Bars In The World, 5 Bars You Can't Miss in London, Best Art Bar in Europe…the superlative potential is endless. My vote? Best Place in London To Spend Your Afternoon. And money.
Thankfully, without regret.