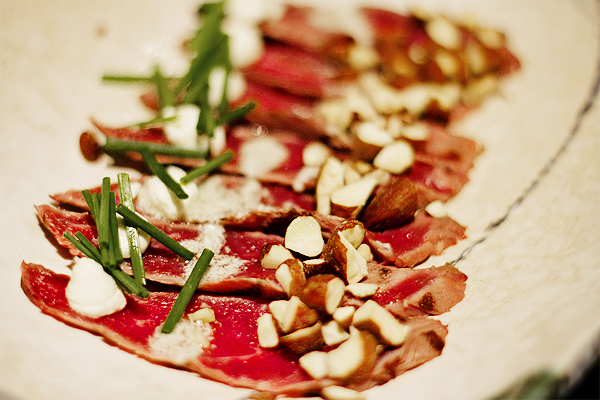 Sushi and yakitori are my failsafe favourite foods. This makes me uneasy, natch, about every new sushi-swigging opening I'm invited to.
Though I have a personal policy against negative reviews, I just want to eat excellent Japanese food, you see.
Thank heavens for the launch of Sticks n Sushi in Covent Garden. The Danish restaurant group already have a spot in Wimbledon, but the distinctive space on Henrietta Street – all brick walls, oak bars, and natural light – takes the cake for me.
As per the original Danish site, the menus are presented in an uber-visual catalogue presentation where the food is photographed just as beautifully as it is served; an absolute treat to flip through for sushi virgins and connoisseurs alike. Though their set menus are a great starting point for curiosity and value, I am an a la carte woman and could not resist ordering at least one item from each of the nine pages.
After a round of Yuzu Lemonade (10/10) and and Keroppi (Hendrick's gin, fresh cucumber, pineapple and calpico – 11/10), of course.
Starting with Salmon Carpaccio and Beef Tataki, The Manfriend and I knew we were in for a treat. The six slices of beef were prepared better at Sticks n Sushi than anywhere I have eaten internationally. We're talking a thick fillet of beef with smoked cheese, chives, yuzu kosho dressing, soy roasted almonds and spicy goma dressing. When eaten between slices of the salmon (with daikon, chives, lime marinade, trout roe and miso aioli) – I became almost physically excited for the rest of the food to arrive.
For the yakitori indulgences, we opted for scallop wrapped in bacon with herb butter and grilled king oyster mushroom with herb butter and supreme soy. Because herb butter doesn't count as butter (shhh, don't tell me otherwise).
Though a cup of ceviche consisting of yellowtail, shrimp, tomato, red onion, cucumber, coriander, lime marinade and citrus pearls didn't quite pack the punch I'd hoped for, Sticks n Sushi were back to hitting home runs as soon as the Nigiri arrived: two pieces of gunkan spicy tuna with black tobiko, quail egg yolk and cress, two pieces of tuna with smoked cheese and cress, and two pieces of salmon with miso, chives, fresh ginger and red onion…
…demolished.
Oh, but it didn't end there (the beauty of sushi!). Next up? Softshell crab in rice paper, avocado, red tobiko, lettuce, yuzu kosho and ponzu – the ponzu adding a deliciously tart kick to the risky balance of fermentation and smoky roe.
Followed by a sheepish order of 'Bling Bling roll' (I hate the name) – the insane cataclysm of crayfish, scallop, avocado, cucumber, wasabi, tobiko, miso aioli, chives, trout roe, unagi sauce and lime…sigh…made it my favourite dish of the evening.
Having had such an impressive savoury experience, dessert was obviously on the cards.
For me, the Small & Sweet. A perfectly portioned selection of 1) white chocolate with sweet miso and popped rice, 2) dark chocolate with caramel and lightly roasted sesame, 3) a logic-defying raw food cake with organic brazil nuts, dates, coconut, orange, cacao, goji berries, matcha tea, spirulina, cardamom and cinnamon, decorated with lime cream, cashews, and coconut.
The Manfriend's small pots of creme brulee (vanilla, liquorice, and white coffee flavoured, respectively) looked delicious, but I would be shocked if anything could compare to the Small & Sweet.
Sticks and Sushi wins for favourite restaurant of 2014.