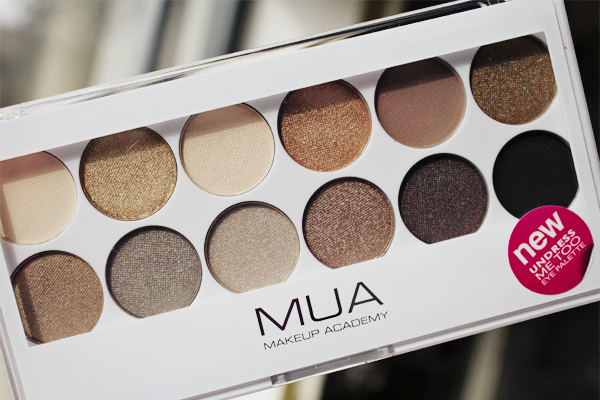 When it comes to drugstore dupes, MUA (Makeup Academy) is a brand I've come to rely on. Having recently emptied the tube of one of my favourite lip products, I was due a trip to Superdrug to find a replacement and was immediately taken by the MUA display.
First unnessecary grab? Two MUA Luxe Velvet Lip Lacquers in Reckless (a blue-toned red) and Atomic (a coral). I cannot believe these are only £3. I have spent £20+ on comparable products that don't last half as long. MUA'S velvet lacquers are matte, smudge-proof, long-lasting (even through two cups of coffee!), and non-drying.
Tip: The shade 'Kooky' is a perfect dupe for Lorde's omnipresent deep purple lipstick.
To restrain myself from buying all the lacquers I 'compromised' (ahem) by taking the MUA 'Undress Me Too' Eye Palette home, as well. With this very review in mind, I swatched and brushed and dipped and blended to my heart's content, finally deciding to create the eye look you see below.
Get The Look:
Shy – a pearly-hued nude used over my entire lid. main shade, pearl
Lavish – a sheer brown (more matte than other shades), blended throughout the crease
Wink – a shimmering deep purple, used in the outer corner to lift the eye
Exposed – a duotone grey/purple used to blend 'Wink' into the crease and lid
Corrupt – a soft, matte black, used wet as liner
(Shades in the palette – left to right, top to bottom: Naked, Devotion, Shy, Fiery, Lavish, Dreamy, Tranquil, Exposed, Reveal, Wink, Obsessed, Corrupt.)
For £4, I can't think of any eyeshadow – let alone eyeshadow palette! – that offers better value. MUA have earned themselves a true fan in me.