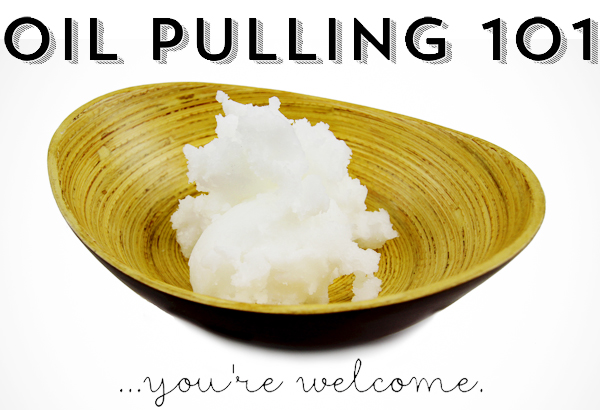 What is Oil Pulling?
Oil pulling – or oil swishing – is the practice of swishing oil around your mouth. Not all too fun a concept when put literally, eh?
The catch (and the reason the internet is going wild over it) is, when oil pulling is done right (see below) you experience some really phenomenal health benefits.
What does oil pulling do?
Ready for a laundry list? Many people have experienced different benefits from oil pulling, but the most common results include cleaner teeth and gums, whiter teeth, general detoxification, clearer skin, as well as an improvement in conditions like arthritis, asthma, bronchitis, eczema, headaches, hormone imbalances, infections, liver problems, and PMS.
How do you do oil pulling?
In a nutshell (get it? GET IT?!), you swish one to two teaspoons of oil around your mouth for twenty minutes at the start of your day (pre-breakfast). Though many people find it hard to 'pull' for the full twenty to begin with, starting at five minutes and working up towards twenty over a week or two tends to work for most people.
Similar to the concept of oil cleansing for the face, high quality oils are able to cut through plaque and detoxify the body through one of the most porous (read: dirty) places in the human body, all without disturbing the teeth or gums.
After twenty minutes, you should dispose of the residue (an ugly mix of oil and detoxed saliva) in a toilet, flush, and brush your teeth as per usual. It is important to remember not to spit it down a sink or drain (which can cause blockages) or swallow the oil (which is full of toxins and bacteria at the end of the process).
What are the negatives of oil pulling?
As long as you're not swallowing the 'leftover' oil, you will be happy to know there is no harm in oil pulling. At its most extreme, the only side effects reported have been mild 'detox' symptoms in the initial few days; mild congestion, headaches, mucous drainage –
What oils do you use for oil pulling?
A pure-as-you-can-get-it vegetable based oil (coconut, sesame or olive work best for me).
Shop The Oils:
Extra Virgin Organic Coconut Oil from Fushi
Organic Cold-Pressed Sesame Seed Oil from Pukka
Extra virgin olive oil from Punta Licosa
If you have any questions, don't hesitate to leave a comment below!