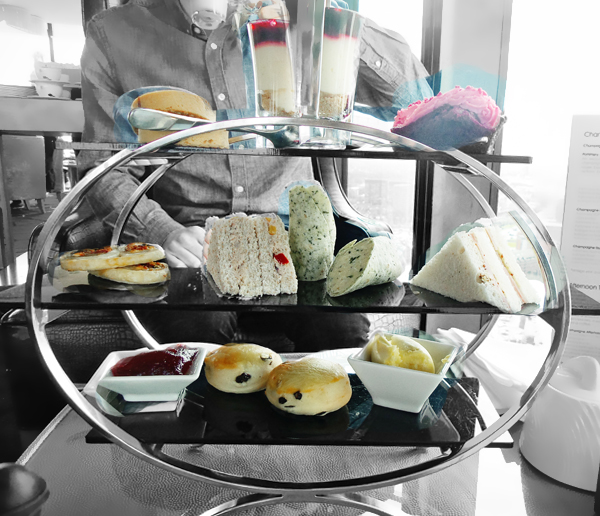 In the middle of a very busy day of meetings in Manchester, the business partner and I felt we deserved an indulgent break on the 23rd floor of the Hilton hotel. At the tippy top of Manchester's tallest building, Cloud 23 is known – if not for its cocktails – for its afternoon tea.
Offered from 12 to 5pm, Cloud 23 serve their afternoon tea rather traditionally: a selection of finger sandwiches, a scone with cream and jam, and a selection of cakes with unlimited tea or coffee. The non-traditional side of things came down to the views: from 23 floors up, Manchester is simply captivating – a sight that contributes hugely to the overall atmosphere.
Opting for a pot of full-bodied Long Jin green tea, we were quickly presented with our tower of tea things. To my delight? A moist slice red velvet cake and dreamy little scones. To my (not so delighted) surprise? The 'finger sandwiches' were miniscule: a quarter slice of tuna sandwich, a quarter slice of ham sandwich, and a two-bite cheese wrap. Though there was nothing unbecoming of the savoury options, they absolutely did not justify a minimum £19.95 per person price tag. A shame, as everything else was comparatively lovely.
By the recommendation of our excellent server, we reached 'full' by pairing our last few bites of cheesecake with Pommery's 4 Seasons champagne tasting board. Featuring 50ml flutes of Brut Rosé, Blanc de Blancs, Blanc de Noirs, and Extra Dry, the extra bubbly pounds spent turned out to be great value for money.
With the right tweaks made to the savoury options, Cloud 23 has the chance to be a phenomenal afternoon tea hotspot for the North.