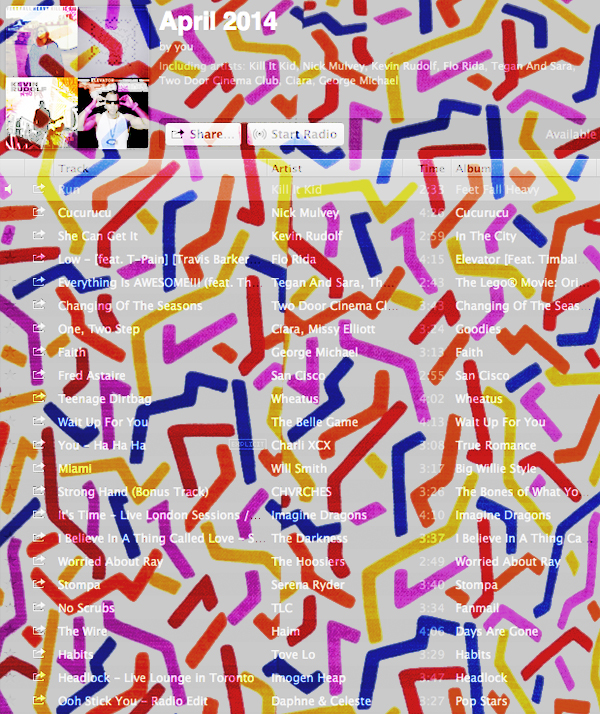 The selection process for this month's free Spotify playlist went something along the lines of:
a) Pretend you're 12 again. What music is on your mix tape?
b) If you were 12 today and mix tapes still existed, what music would be on it?
Naturally a mix of Travis Barker, Will Smith, and Haim came out from my brain rubble.
If you're actually 12, loving this playlist officially makes you the coolest kid around.
(Need to catch up on last month's? Click here for March's free Spotify playlist.)
(Download Spotify here. It's free!)
Track listing:
Run by Kill It Kid
Cucurucu by Nick Mulvey
She Can Get It by Kevin Rudolf
Low by Flo Rida (ft. T-Pain and Travis Barker)
Everything is AWESOME!!! by Tegan and Sara (ft. The Lonely Island)
Changing Of The Seasons by Two Door Cinema Club
One, Two Step by Ciara and Missy Elliott
Faith by George Michael
Fred Astaire by San Cisco
Teenage Dirtbag by Wheatus
Wait Up For You by The Belle Game
You – Ha Ha Ha by Charli XCX
Miami by Will Smith
Strong Hand by CHVRCHES
It's Time (Live) by Imagine Dragons
I Believe In A Thing Called Love by The Darkness
Worried About Ray by The Hoosiers
Stompa by Serena Ryder
No Scrubs by TLC
The Wire by Haim
Habits by Tove Lo
Headlock (Live) by Imogen Heap
Ooh Stick You by Daphne & Celeste