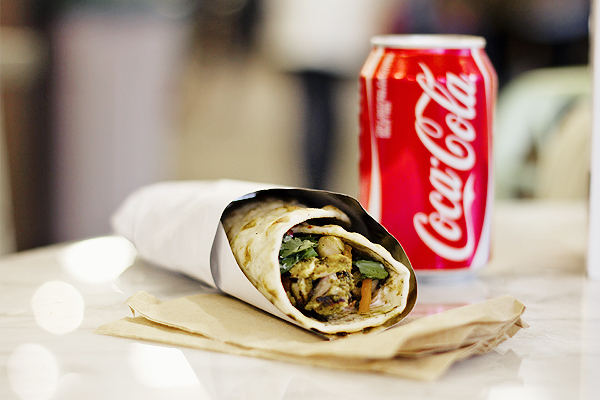 Trinity Leeds' Trinity Kitchen is, truth be told, one of the first places that made me fall in love with Leeds. It's about time I gave it some blog love.
Though Trinity Kitchen has some long-term restaurant spaces secured (PizzaLuxe, Pho, other good noms beginning with the letter P, etc), the area I tend to make a beeline for is the open 'food court' right at the back – an space filled with a monthly rotation of street food vans.
At the start of April, I headed down to check out the newbies: Rola Wala, Happy Maki, The Cake Doctor, Fresh Rootz, and Bangwok. Spoilt for choice, much?
After spending far too much time staring at Cake Doctor's 1979 Ford Transit Mark 2 ambulance and circling around Bangwok's giant woks, oil drums, and Tuk-Tuk, I sent The Manfriend off to Rola Wala while I ordered Happy Maki's Hoisin Duck futomaki (translation: wrap). Filled with crispy shredded duck, hoisin sauce, spring onion, roasted sesame seeds, avocado, cucumber, and green pepper, this carefully balanced – and ocean conscious – meal is a treat and a half. (You can sub the duck for tofu, but you'd have to be nuts. Instead, add some wasabi and ginger and get your Happy on.)
Having rather 'meh' feelings about Indian curries, I didn't expect to be as eager to taste Rola Wala's Coriander Chicken Tikka wrap as I was. Simply, the 'I could marry this' look on The Manfriend's face said it all. When offered a bite, I practically cut it out of his hands.
There is something magical going on in Rola Wala's wraps. As co-founder Adam explained while spreading all of the toppings across the wrap, the chicken (which is halal) is marinated for 48 hours before being nipped and tucked inside their fresh naan. Even the naan was more than a vehicle for the flavour (which was phenomenally, moreishly spicy). In itself, it was rather tasty.
Balancing sips of Happy Maki's Berry Smoothie (blueberries, blackberries, banana and almond milk) between tongue-zapping bites of the wrap, I was in street food heaven.
I only wished I had enough stomach space to get through one of the super-stacked veggie plates (from Fresh Rootz) that so many fellow Trinity patrons were gushing over around me.
Completely stuffed to the brim and swearing to return to trial the rest of the Kitchen's April offerings, we stopped by Rola Wala to give our praise…only to be tempted by Adam's introduction of 'The Hottest Ice In The World'. In partnership with Indie Ices, Rola Wala have developed a small pot of mango kulfi with added coconut, lime juice and a pinch of Moruga Scorpion Chilli (the Worlds hottest chilli). It was – obviously – divine.
You won't spend a better £10 (or less!) anywhere in Leeds.