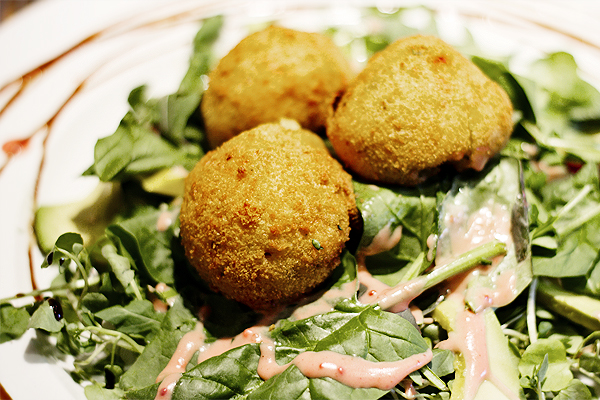 The Yorkshire Meatball Co. – or, The YMCO – sounded like my worst nightmare until I visited their website.
I urge you to take a look. It deserves an award.
Telling patrons that they're a "speciality Meatball Bar leading the fight against average, tasteless, meatless meatballs"* pretty much dissolved each and every reservation I had. And thank goodness it did: I wouldn't call myself a 'meatball woman', but I'm more than happy to call myself a YMCo woman.
Kicking things off with a naughty glass of their Yorkshire Iced Tea (hello, gin!), my dining partner and I decided to share their Yorkshire Platter as a compromise for wanting each and every one of their starters. As you can see, we were not left unsatisfied. The long cutting board was furnished with pressed York ham hock terrine, a selection of fresh local cheese, a 'shot' of soup (a starter in itself!), a hard boiled hens egg, pickled onions, dressed leaves, flatbread and roasted garlic mayo. With balls to come, it would have been impossible for us to finish…but we tried our very best.
The main portion of their menu focuses on the idea of 'Balls' (your choice), 'Beds' (veg, mash, greens, et al), and 'Blankets' (sauce), all of which my companion couldn't ignore. He opted for the 'Hot Balls' (hand-rolled meatballs with a hint of chilli pepper), root veg (roasted in olive oil with fresh garlic), a complimentary Yorkshire pudding (you can choose not to have one, though I'm not quite sure why you wouldn't), and Herby Ketchup (fresh tomato and herbs). You better believe he licked the dishes clean.
I was slightly jealous until my 'Naked Bals' arrived 2.7 seconds later. Their 'Naked' concept comes with no blankets or beds; instead, a bed of salad and toppings to compliment your choice of Balls. As I couldn't ignore the haddock, chorizo and parsley Fish Balls, my 'meat' was balanced atop a large pile of watercress, avocado, raspberries and lime. With a Birdie Ball 'Taster' (just £2 for a ball on a small, lightly toasted brioche bun!) on the side, I was engulfed in a mushroom pesto blanket delirium.
To date, I have not had a more filling, delicious, and affordable lunch in the North. My only regret is not leaving room for their cheesecake balls.
* It must be mentioned, I believe they're selling themselves short on the 'meatless' – I've seen rave reviews for their veggie balls.