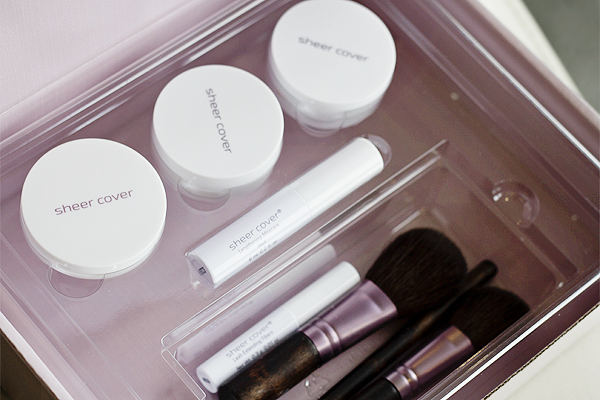 You can only watch an infomercial so many times before the product ends up on your doorstep. Case in point: Sheer Cover. Like many fellow insomniacs, I've watched their products paint an invisibility cloak over acne scars, pigmentation, rosacea and more. Like many fellow skeptics, the little voice at the back of my head responds to said images by screaming 'Hollywood editing!'.
Yet, here I am, reviewing Sheer Cover (and as I refuse to post negative reviews, you can probably guess there is no Hollywood magic to be reported).
Say hello to the Sheer Cover Studio™ Deluxe VIP Kit.
I am not much of a foundation girl, but I have preferred the idea of BB creams and tinted moisturisers over loose powders when it comes to foundation alternatives. Something about powder has always felt very high-maintenance to me: keeping a pressed powder in your purse, touch-ups, even needing to do a touch-up is beyond the effort I'm willing to put into my face.
Sheer Cover changed my mind on powder.
Their first set of brownie points came down to the fact that their products are very natural; the loose powder – or 'Perfect Shade® Mineral Foundation' – is full of healthy, breathable minerals that are extremely light on the skin. They may offer only a light to medium coverage, but when combined with the Conceal & Brighten Trio, you simply don't need more coverage. The two concealers (and accompanying highlighter/'Brightener') are professional grade and incredibly easy to work with. I felt the accompanying 'Sun-kissed Bronzing Minerals' were a great call on Sheer Cover's part – the three-tiered bronzed powders add just the right amount of warmth to the skin without looking fake or chalky.
The kit rounds out with a Foundation Brush, Concealer Brush, and Bronzer Brush that pair perfectly with their accompanying products, as well as Sheer Cover's Lengthening Mascara and Lash Extending Fibers (not a miracle product, but a good staple when you want to 'pump up' the lashes).
After a good week of trials, I can see anyone from a teenager to an OAP loving this kit. No Hollywood magic, just a mineral-packed answer to natural flawlessness.