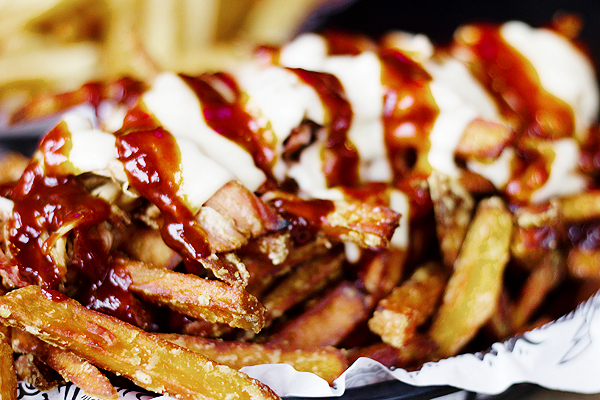 Recently, Aire Bar welcomed Twisted Burger Company into something of a pop-up space on The Calls and the city of Leeds has been abuzz with lust (and competitive eating tales) ever since.
And though the illuminated sign has haunted me on my way in and out of the office, I figured I couldn't properly judge Aire Bar's pop-up until I had visited their original set-up in Sheffield's The Harley.
The Manfriend and I starved ourselves for a few hours, buckled up, and drove South in hopes of a dirty, dirty feast.
The no-frills pub was heavily filled with tipsy uni groups, awkward dates, and was exactly what you expect of a classic burger joint, with a few twisted but delightful extras (Henderson's Relish, anyone?).
With eyes adjusted to their monstrosity of a menu (it's well branded, but well fugly), we mmmed and ahhed over the UK's first bacon burger until deciding that two patties made entirely out of bacon might feel like torture during the drive home.
Little did we know the casual orders we would end up making would be far worse.
First? The Great. The Manfriend's Smokin Joe Frazier (two double chicken patties with smoked streaky bacon, monterey jack, ranch dressing, lettuce and harley house relish in a brioche bun) was a gargantuan delight. My Big Pimpin Fries? Epic. Pulled pork, smoked cheese sauce, Kraken BBQ sauce, and the crispiest sweet potato fries I have ever laid teeth on. It ended up being my main meal.
Why, you ask? Because, second, comes The Scary. The This Is Hardcore – to be frank, I was too stupid to take a hint from the name – blew my mouth to smithereens. What starts off as an innocent double beef burger with American cheese turns into a fiery pit of hell with the addition of 'Nduja sausage, deep fried jalapenos (which they've typoed jalepenos?), and harley hot hot hot sauce. I tried to disect each layer until I reached a 'safe' level of spice, but it simply never came.
Then, playing masochist, I took a bite of one of The Manfriend's Hellfire Fries.
I could have cried.
Though the menu clearly explains that the fries are dusted with ghost chilli spice, I didn't quite 'register' ghost chilli until I bit into the Hellfire. Flashback: "Oh yeah! Lela! That's the world's hottest chilli that you tried in that killer food pop-up!"
I downed my Diet Coke, inhaled the Big Pimpin Fries, and didn't dare open my mouth (for fear of air making the spice sting worse) until dessert arrived.
Back to All-American brownies and ice cream with a perfectly shareable pot of white chocolate and raspberry cheesecake (flavour of the day). Ahh, a safe place.
It may have been the most disastrous order I have made in over twenty years, but I thoroughly enjoyed (half of) the food and (all of) the atmosphere.
Just, next time, I'm swapping ghost chilli for bacon patties.