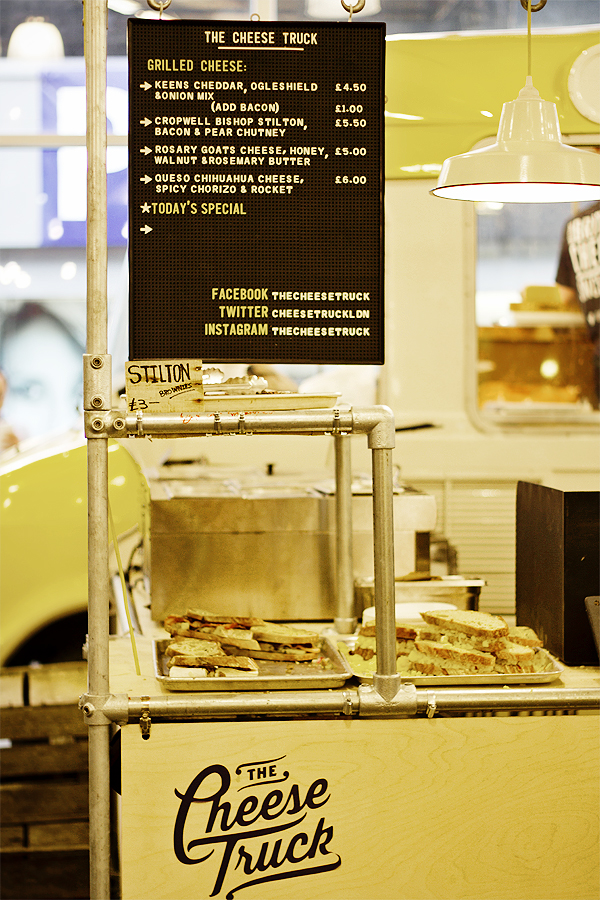 Confession: Over the past few years, I have become a bit of a cheese snob.
Though I try (and fail) my very best to not be a food wanker, something about moving back to the UK after an American teenagehood of cheese – apologies, cheez – crackers, sprays, and slices gave me the green flag to become more particular about the yellow stuff.
Rediscovering Brie alone was a pretty emotional time for me.
Proving I still get jazzed over a good block of dairy, when The Cheese Truck invited me over to Trinity Leeds for a chat and gorge last week, my heart went pitter patter.
I'm a freak, I know; but…GOURMET GRILLED CHEESE, YOU GUYS.
On the arranged evening, myself and a few fellow bloggers sat down with Matthew (half of 'Team The Cheese Truck') and loved on cheese – verbally – for a good hour or so between tasters from the truck's varied ingredient stash.
From the tasters I knew I was in lust with the Ogleshield from Montgomery's but was blown away when it arrived in a grilled sourdough alongside Keen's Cheddar and some thinly sliced red onions. Oglesheild is immensely, gloriously stretchy and 'calms' the cheddar into a moreish slice of heaven. Veggie food porn, to say the least.
(It is worth nothing that while they are residents of Trinity Kitchen all of their thick-cut sourdough is coming straight from our city's own Leeds Bread Co-op; a decision to applaud both ethically and tastefully.)
Next up, a grilled cheese filled with chunky chorizo, rocket and 'Queso Chihuahua' from Gringa Dairy. As both of the names suggest, this Mexican cheese (made by an Illinois native living in Peckham) is a classically tangy tex mex creation that plays off the chorizo beautifully. It was our table's favourite.
Unsure of how well the next two sandwich samples would go down, I bit into a blend of Cropwell Bishop Stilton, bacon, and spiced pear chutney with an open mind. Stilton is one of my least favourite cheeses (especially for its overabundant presence in salads), but somehow this savoury pairing just worked. It's a little naughty. Which makes it very nice.
On the naughty-ometer, the final sandwich probably takes the cake. After combining Capricorn Somerset Goats Cheese with honey and walnuts, The Cheese Truck push the envelope a little bit further and glaze the sourdough in Rosemary butter. I thought it would be sickly. It was just plain SICK. After a year of business, the guys of The Cheese Truck have still been known to eat this baby for breakfast, lunch, and dinner. If that's not endorsement enough, I'm not sure what is.
With just enough room left to sample their dessert, our evening was capped off with a sumptuous plate of dark chocolate and Stilton brownies.
Yes, chocolate and cheese.
Yes, it was (like everything else) awesome.
If you're not able to get to Leeds before the end of this month's residency, you can look forward to sampling The Cheese Truck's goods at Glastonbury and Sonisphere over the summer, as well as a bevy of other locations throughout the year.
Matthew hopes the next stage for The Cheese Truck is an artisan cheese bar a la Mission Cheese. Investors, getcha pesos out.